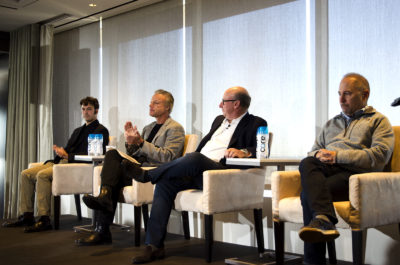 While science is constantly advancing, the field of medicine has been at a standstill, employing primitive practices that date back to the 1940s, according to David Fialkow, co-founder of venture capital firm General Catalyst.
However, scientists and entrepreneurs of the Science and Healthcare Forbes Under 30 list could change the discipline in as soon as the next five to 10 years.
In addition to the five original content tracks, Forbes Under 30 introduced a new track, the Discover Stage, which primarily focused on science and healthcare. The Discover Stage took place on Monday morning and Tuesday afternoon at the University of Massachusetts Club.
"We got a lot of feedback from the attendees, and they wanted one," Matthew Herper, senior editor of pharma and healthcare of Forbes Magazine, told The Daily Free Press. "There's a science list and a healthcare list here at the event today. We thought it was a really exciting idea, so we did it."
Presentations on the stage ranged from discussing the entrepreneurial side of medicine to genetically engineered pig organs for human transplants.
"I was looking for people who could speak to the experience of being a young scientist or entrepreneur and some of the challenges they face," Herper said.
The first panel examined the application of data science to the field of medicine, with each panelist being chief executives of America's top biotech companies. Jeffrey Leiden, chairman, president and CEO of Vertex Pharmaceuticals, summed up how data can be used to change the roles of medical professionals in the next few years.
"This intersection between information sciences and medicine is going to change profoundly very quickly over the next five to 10 years how we do things," Leiden said during the panel. "Radiologists won't be the primary readers of X-rays, machines will be the primary readers of X-rays. Nor will pathologists won't be the primary readers, machines will do that, and they'll do it much better."
Leiden said while it may seem that the new technology may replace medical jobs in the future, he assured that it would enable medical professionals to accurately make diagnoses and help more patients.
"From a diagnostic standpoint, we will have a much better idea of what's really going on, and from a therapeutic standpoint, we're going to be aiming for cures and preventive therapies," Leiden said. "We're not going to be waiting until somebody has advanced symptoms of a disease to try to treat them symptomatically."
Andrew Beck, co-founder and CEO of PathAI, said data science will create more uniformity in diagnoses.
"Today, every diagnosis is done a little differently based on the practitioner making it," Beck said during the panel. "But you can imagine a future where you have the world's best system in the cloud is distributed to labs and hospitals everywhere."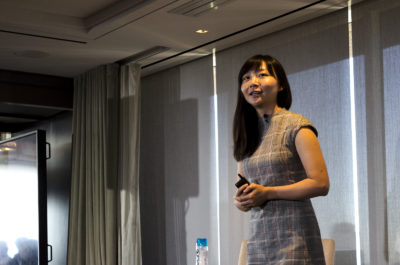 Narrowing the scope in the field of medicine, the Discover Stage hosted biologist Luhan Yang, chief scientific officer of eGenesis Bio, talked about genetically engineered pig organs, which would be used for human transplant to solve the organ transplant shortage in the United States and eventually the world.
"Imagine a world where there's no need for dialysis if we can provide a functional kidney," Yang said during her presentation. "Imagine a world where there is no Type 1 diabetes if we can transplant function pancreatic islets. We at eGenesis aspire to create a world without shortage."
Yang added, "We are still at the beginning of the journey, and we are dedicated to translate science into solution to serve many patients who are waiting for organs."
Apart from the scientific side of healthcare, David Hysong, founder, patient and CEO of the Shepherd Therapeutics and Foundation, spoke on the entrepreneurial aspect of healthcare by describing his company's dedication to find a cure to rare cancers.
"At the Shepherd Foundation, we're aiming to bring all rare cancer patients under one umbrella because there's power in visibility," Hysong said during his presentation. "There's power in numbers."
Hysong said that he hopes to fund 100 new research foundations in the next 20 years, each one dedicated to funding research on each specific subset of cancer to accelerate the race for a cure.
With the combination of science and business in panelists and presentations, audience members were able to see the expansion of medicine from just a field of science to an industry.
"It's amazing how these people are incredibly entrepreneurial, and they're from academia," Christopher Look, an Under 30 Scholar from the University of Maryland College Park, said. "So they have the rigor of academia, but also the ability to scale it up and put it on the market."
Sanna Madan, another Under 30 Scholar from the University of Maryland College Park, said the Discover Stage inspired her and encouraged her to make her own impact in healthcare and biotech in the future.
"It helped me realized that there is so much to still be done and that I shouldn't be discouraged and think, 'Oh I'm just an undergraduate, so I can't come up with some idea or venture at this stage,'" Madan said. "There's a lot of potential impact waiting to be made in healthcare and biotech."