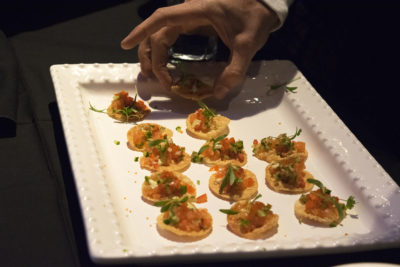 Nordic smoked salmon and salty crisp bread. A black truffle arepa. Coffee toffee, white chocolate peanut butter toffee and harvest blend toffee. Ten chefs on the Forbes 30 Under 30 list served gourmet dishes, both sweet and savory, in a competition to win the Forbes Under 30 Summit Food Festival on Tuesday night.
Judges included Daniel Boulud, chef and restaurateur; Lee Schrager, founder of the South Beach Wine and Food Festival; Ayesha Curry of the Food Network Ayesha's Home Kitchen and Forbes magazine editor Randall Lane. The audience served as a fifth judge and voted for which chef to nominate for the People's Choice award.
Andrew Chmielewski of Dave's Sweet Tooth was awarded Judges' Choice in the sweet category and Christian Pettersen of Mondo in the savory category. Andrew Gonzalez of Night Owl Cookie Co. won People's Choice in the sweet category and Kelvin Fernandez of Strand Bistro at the Pulse Hotel in the savory.
"We were up against such awesome competition that I didn't really think about if we won," Chmielewski said. "I think I've already won just by being here and being able to take part in it."
Chmielewski served three different flavors of toffee from his business, Dave's Sweet Tooth. Named after his father, a retired firefighter who made toffee for the guys at the engine house, Chmielewski took the recipe and expanded the brand from selling out of his home kitchen to 5,000 stores across the country with international shipping starting off.
However, Chmielewski said that it was making it on the Forbes 30 Under 30 list that lent integrity to his line of work in candy-making.
"Forbes is definitely the end-all, be-all for business, so to have that stamp of approval and to tell people that you're on that list, it lends credibility to something I'm doing," Chmielewski said. "It makes people take you a little more seriously. They think twice about something other than just being some guy who makes toffee to a Forbes list member."
Working in the candy making business wasn't something that Chmielewski expected to do for the rest of his life, but he said seeing people enjoy his toffee made the job worthwhile.
"If you would've told 8-year-old me that I was going to be making candy, I probably would've thought it was the coolest thing ever, but definitely not what I wanted to be when I grew up," Chmielewski said. "But I love cooking, and I love the reaction people give when they try to their product for the first time and you see the look on their face, saying 'Oh my God, this is so good.'"
Like Chmielewski, Fernandez did not plan on becoming a renowned chef at only 32 years old. Having been a wrestler and taking auto mechanics in high school, he only decided to take up cooking when his girlfriend at the time encouraged him to do so.
Upon graduating high school, Fernandez was posed with the decision between a wrestling scholarship and a cooking scholarship to the Culinary Institute of America.
Now, years after choosing the cooking scholarship, he not only was featured on the Forbes 30 Under 30 for three years, but he also out-cooked Bobby Flay on "Beat Bobby Flay," prepared meals for celebrities like José Reyes — shortstop for the New York Mets — and was featured on Zagat's first 30 Under 30 list.
"This is my second year in Boston, so this is my third year in Forbes, and my second time winning best chef," Fernandez said. "To be able to do this back to back is such an amazing feeling … Forbes has helped me create a platform to just show my talent, and I'm very grateful for that."
Gonzalez said that Forbes also lent validity to his dream of making cookies, just as it did for Chmielewski and Fernandez.
"My parents, my family, my friends all thought I was insane," Gonzalez said. "I was literally dropping out of college to sell cookies, and they never thought anything like this could amount to anything. If anything, it pushed me a little harder to make a name for myself."
Gonzalez competed with his Ave Maria cookies, which was a cookie topped with crumbled Maria cookies and a drizzle of guava and queso crema, which is cream cheese frosting with white chocolate. He said he chose this specific cookie because it incorporated his Cuban culture and Miami flair in each bite. 
"Forbes had a quote on Instagram not too long ago that really hit home," Gonzalez said. "It was, 'We only have two lives. The second one starts when you realize there's only one.' I love that quote, and it means so much. I want everybody to understand that and know that."