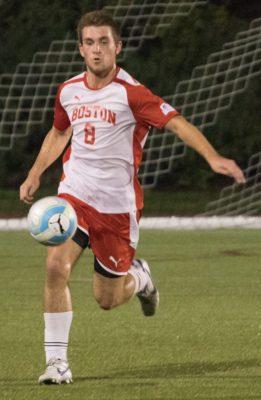 Less than a month ago, the Boston University men's soccer team was in the midst of a 0-5 start to the 2017 season. It was clear that BU (4-6-1, 3-0-0 Patriot League) had struggled offensively with the loss of senior midfielder Anthony Viteri and former forward Felix De Bona.
However, Wednesday night told a different story as the Terriers secured their third Patriot League victory of the season against the College of the Holy Cross (3-5-2, 1-1-1 Patriot League).
For BU head coach Neil Roberts, the 3-0 win came as a result of a tightened defense and an aggressive offense, he said, and learning through the earlier games of the season.
"After about the third or fourth game, we knew that everything was going to be the conference so we were able to relax the guys and say we've got to use these games to get better, we got to use these games to figure things out and find out what our personnel's going to be," Roberts said. "I think we did that and I think it's paying off now."
After going scoreless for its first five games of the year, the Terriers have increased their offensive pressure on the field. Over its past two contests, BU has registered 47 fouls, 26 of which were in last weekend's win against Lehigh University.
The Terriers were able to limit their fouls to 14 against Holy Cross, but their aggressive offense proved productive as BU got three goals past Crusaders junior goalkeeper Henry Stutz.
Roberts said he was impressed with his young team's ability to adapt to their opponents' differing styles of play.
"We played differently today than we did at Lehigh and I think they adjusted pretty well," Roberts said. "They kind of lost it in the first half, but then they got it back so that's impressive for a young group."
Sophomore goalkeeper Michael Bernardi made his sixth start between the posts.
Although the Crusaders got seven shots his way, the Mahopac, New York native was essential on the other side of the field to bring BU its third shutout in four games.
Holy Cross increased its pressure as it attempted to get on the scoreboard, but was only able to get one shot on goal during the contest.
Nonetheless, the Terriers' defense, led by senior back Adam Sheikali, was able to keep the Crusaders offense at bay.
Roberts said that collectively his team has defended much better since their game against the University of Massachusetts Amherst.  
"In the first half of the season, we were creating goals for the opposition by making huge mistakes [such as] penalty kicks," Roberts said. "In college soccer, if you don't create goals for the other teams you're always in the game."
Scoring began early while both teams battled for the Turnpike Trophy.
Immediately following a turnover by Holy Cross, sophomore forward Matt McDonnell was tripped up in the goalie box and earned a penalty kick at the 13th minute.
Nine minutes later, sophomore midfielder Satchel Cortet, who has notched two assists this season, headed the ball into the goal to tally his first goal of the season and extend BU's lead to two.
"He's a grinder, you know what I mean, he does all the dirty work for us and his goal was kind of like that, the dirty work," Roberts said. "It was a loose ball. He got on the end of it and he's been playing really, really well for us."
Late into the second half at the 78th minute, sophomore midfielder Jerry Ozor notched his first goal of the year after receiving a nice pass from junior midfielder T.J. Butzke to seal the Terriers win.
Roberts said that this game marked a turning point in the right direction for his team.
"With this young group, you never turn the corner because yesterday is right behind them all the time, but they're heading in the right direction," Roberts said. "There's a lot of things we can get better and they know that, and hopefully we'll continue to work at [those] as we're getting better."