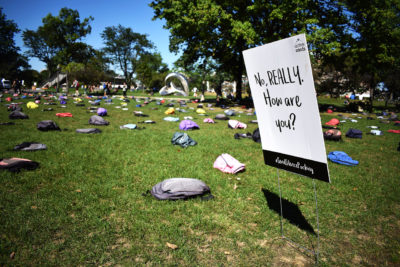 One thousand colorful school backpacks lay in the grass of the Boston University Beach as students and faculty walked to class. Each backpack symbolized a college life that is cut short every year due to suicide.
The backpacks made up the "Send Silence Packing" exhibition, a project sponsored by Active Minds, a chapter in a national organization that aims to promote mental health dialogues and awareness about students struggling with mental health. The traveling exhibit made its debut at BU last Thursday.
According to the Active Minds website, the mission of "Send Silence Packing" is to inform people about the impact of suicide, while also providing students with mental health resources — all in an effort to "inspire action for suicide prevention."
The Active Minds website noted that whenever the exhibit travels to a school, the backpacks are spread out in a high-traffic area of campus, such as a quad or an area like the BU Beach, in order to catch the attention of students.
"College suicide is vastly underestimated," said Taylor Tresatti, outreach coordinator for Active Minds. "We hear about it in terms of outlier events, but it's important to think of it as a larger issue. When we take this project to colleges, we hope that it helps people who are suffering, and that they'll come to talk to us or people at the school and be connected with resources that can help."
Walking onto the BU Beach, students were struck by many aspects of the exhibit: the sheer number of backpacks, the stories attached to them and the overall message of the display.
"It's just really shocking," said Shivani Arya, a junior in the College of Arts and Sciences. "Seeing all these backpacks from far away, they look like litter or something, but as you get closer you realize that they all represent people, real people. It gives a number and representation to the people who are affected, and that's what makes it so powerful."
Send Silence Packing's tour varies each year, and it has been shown in over 140 cities across the country. This year, the traveling exhibit made its way to the Northeast. When senior Caitlin Stavish, president of Active Minds at BU, found out it would be in the area, she made it a priority to get the exhibit to BU.
"[Send Silence Packing] hasn't been here at BU before, but we've been hoping for the chance to have it here for a long time," Stavish said. "I had seen pictures of the exhibit at other schools and felt like it was such a powerful image, a great way to catch people's attention."
Savish said the process of getting "Send Silence Packing" to BU was slow, and the chapter had to apply through Active Minds to be approved as a host site — then the group had to work with the university to accommodate the exhibit.
"It took awhile. We wanted to do it in the best and most respectful way that we could since it's a sensitive subject," Stavish said. "But it's worth it to get a dialogue going about these issues and care for the student body in what ways we can."
She explained that about one-fifth of the backpacks were accompanied with stories about the suicide victims. Some contained artifacts from the victims, such as journals and photos while some were the actual backpacks used by the deceased and donated by their families.
BU Active Minds worked with other groups on campus that focused on mental health to help facilitate the exhibit. A few of these groups include the BU Center for Psychiatric Rehabilitation, BU Wellness and Prevention and the BU Behavioral Medicine center.
Dori Hutchinson, the director of services at the Center for Psychiatric Rehabilitation and faculty advisor for BU Active Minds, talked about the importance of taking mental health seriously and how "Send Silence Packing" can engage students about the issue.
"On average, one in four people suffer from some sort of mental illness. This isn't something that we can afford to be silent on — mental health is the foundation of who we are, and mental illness should not be seen as a weakness," Hutchinson said. "This exhibit shows one end of a continuum, but we hope that through bringing it here, we'll be able to encourage people to talk to us before they get to that point."
All the clubs and organizations involved in this project had one main goal in bringing it to BU, which was to encourage discussion about mental illness and to show that nobody struggles alone.
"We're trying to let people know that Boston University really does care, and that students care about each other," Hutchinson said. "That's what's really powerful about this. We care."