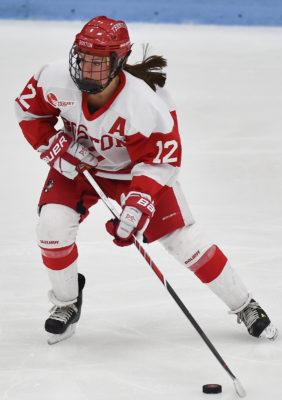 The Boston University women's hockey team was swept in its series against No. 8 Northeastern University. After the Huskies (2-1-1, 2-0 Hockey East) narrowly beat the Terriers (0-3, 0-3 Hockey East) in overtime on Friday night, BU fell 6-3 the following day.
Many of the team's newcomers made an appearance over the weekend as freshman forwards Kristina Schuler and Nara Elia both notched their first collegiate goals. Redshirt sophomore defenseman Abbey Stanley and freshman forward Jesse Compher each tallied assists.
BU head coach Brian Durocher said he liked the way his team played, but that they're still adjusting to the injuries of their players junior forward Sammy Davis, sophomore defenseman Breanna Scarpaci and sophomore defenseman Alexandra Calderone who was injured on Friday.
"I like the way we competed and I liked the way we played," Durocher said. "We're getting a lot of bad bounces here in the way of injuries you know … You got to play with who's on bus … What I noticed today was [Northeastern has] some kids who can make some great plays and they did."
On Friday night, 15 seconds into the Terriers' first power play, Schuler capitalized on junior defenseman Reagan Rust's rebounded shot and got the puck past Northeastern junior goaltender Brittany Bugalski.
BU went a perfect two-for-two on its power play after Elia got a feed from Schuler to extend the Terriers' lead to 2-0.
Stanley took part in each of the goals, her first two points as a Terrier, and led the team in blocked shots with six.
However, two goals less than five minutes apart from the Huskies in the final frame sent the game into overtime.
Despite senior goaltender Erin O'Neil making 32 saves during the night, Northeastern forward Matti Hartman was able to find the back of the net halfway through overtime.
Durocher noted that O'Neil's performance was overall solid.
"She was very solid and gave us a chance to win last night," Durocher said. "I think tonight, it was a tougher game, not that she didn't play well, but just they made some great plays that are tough to stop. They've got some fire power, they've got some kids score [and] they play hard."
In the second game on Saturday afternoon, junior forward Mary Grace Kelley got BU on the board first after connecting with Compher in front of the net.
Northeastern's forward Kasidy Anderson responded four minutes later with her second goal of the series passing over O'Neil's shoulder.
The Huskies gained their first lead of the afternoon after senior forwards McKenna Brand and Denisa Krizova each collected a goal.
Although, the Terriers wasted no time and senior defenseman Savannah Newton got her first career goal.
Durocher said despite this offensive presence from his defenseman, he said has to find ways to get goals and will likely secure wins in close games.
"We're going to have to win 2-1 games, we're going to have to win 1-0 games or 3-2 games," Durocher said. "If we have nights where pucks go in and they find the net, great, but at this point Nina Rodgers and Rebecca Leslie they haven't tallied yet and they're going to."
As BU attempted to get on the board, the Huskies kept their shot advantage and led 40-30.
While senior forward Victoria Bach scored her first goal of the season in the beginning of the final frame, the Terriers were unable to survive their fourth penalty kill as Brand extended Northeastern's lead to 5-3 and Northeastern's freshman forward Veronika Pettey sealed the Huskies win with an empty-netter.
BU will have another extended break before it travels to the University of Maine on Oct. 20 and Durocher said his team will focus on "what we need to do systematically."
"At the end of the day or the end of the month or end of the season, you look and say maybe injuries or maybe we're short in a couple areas, but you shouldn't be short in the areas you can control and that's being ready on face-offs, that's defending hard," Durocher said. "Offense is a skill."