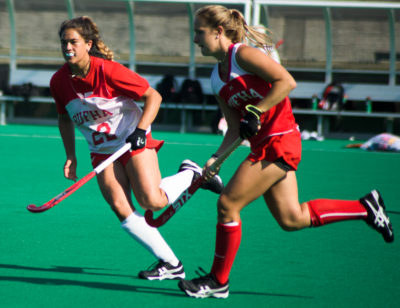 Sometimes you just need a little change of scenery to get going. In Maika Akroyd's case, the slightest position adjustment is paying off for both her and the Boston University field hockey program.
The junior midfielder said that she moved from anchoring the Terrier back defensive line to undertake an increased offensive role.
"Moving up from left back to midfielder now and playing more attacking I have more opportunities," Akroyd said.
Her newfound comfort aided Akroyd in tallying the first two goals of her career over the last two weekends. She found the back of the cage in the Terrier's second conference win, a 5-1 shellacking of Colgate University and again in Saturday's pivotal matchup against American University.
"In the attacking penalty corners our coach is putting me in one of the lead roles," Akroyd said.
She hit the ground running, aiding the Terriers (7-5, 3-0 Patriot League) in their most important game of the 2017 slate on Saturday.
In a matchup of conference heavyweights, the Terriers downed American (10-4, 3-1 Patriot League) 2-1 in a rematch of last season's Patriot League final. The location was the same, but the result was different with BU leaving the field with their third conference victory.
"Our games against American are always battles," head coach Sally Starr said. "They're always hard fought, well played, well coached games."
The team has made myriad adjustments this season with a new new-look roster, and Saturday's victory marked the Terriers biggest win of 2017, Starr said. With a one-game advantage in the Patriot League standings, BU can still lose a game in conference play and host the tournament as they hold the tiebreaker over American.
"It puts us in the driver's seat to be the host of the conference tournament," Starr said. "We still have three conference games to finish the business but this was a big step towards that."
Akroyd netted a penalty corner goal in the 24th minute on Saturday. Usually a play designed for classmate Ally Hammel, Akroyd instead took a pass from Petra Hall and lined a dart past a diving Maura Jacobs.
"We just identified that the stick side on American was open so coach was telling to jump on it so it goes over their stick and it started working for us," Akroyd said.
The Terriers then conceded the lead but walked away with a victory after senior captain Grace Boston cleaned up her own rebound for the game-winning goal and a 2-1 victory.
"I was just lucky to be in the right place at the right time," Boston said.
With eight seniors departing after last season, Akroyd suddenly found herself as a veteran leader for the Terriers and said she's relishing her opportunity at a new position and a strong chance at hosting the Patriot League tournament.
"Hosting the Patriot League tournament is everything," Akroyd said. "We can sleep in our own beds and have our own locker room, it'll feel natural."
Her increased offensive role is paying off for both her and the team.
"It feels a bit different finally scoring," Akroyd laughed. "It's about time though."