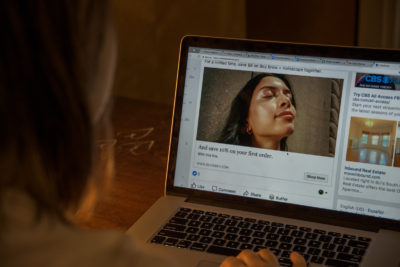 Anyone who has spent more than a few minutes scrolling through their Facebook or Instagram feed has likely noticed sponsored advertisements pop up every few posts or so. While this type of marketing is not all that new, it is quickly becoming more pervasive than ever before.
John Carroll, an assistant professor of mass communication in the College of Communication at Boston University, said social media advertising is now more prevalent than any other kind of advertising.
"Ninety-five percent of new digital advertising dollars go to either Facebook or Google," he said.
Social media advertising allows marketers to achieve the "holy grail" of marketing which, according to Carroll, is marketing that is tailored specifically to each user.
"The internet allows marketers to advertise to a market of one," Carroll said. "That's the appeal, and that is to some degree the creepy part of it, too."
This targeted approach, Carroll said, results in highly personalized advertisements.
"You look at a pair of shoes, and for the next week or two, the shoes that you were interested in are going to follow you around the internet," he said.
Amy Shanler, public relations professor in the COM, said social media marketers are able to make advertisements specific to each user based off of information such as items that they have recently searched for.
"A lot of the ads that you're seeing are things that you've already gone out and looked for," she explained. "If you've searched once for a laptop skin, you're going to automatically start to see more types of those ads in your feeds."
She added that the millennial demographic is more likely to buy products online than older generations.
"Millennials and college-aged people are savvier, more connected and smarter shoppers," she said, adding that they're also more inclined to buy items online than in-person.
She said she believes this may be one reason why social media marketers focus their attention on the younger generation of users by advertising products that focus on convenience.
"If you're younger and starting out, maybe you need products that are fast and convenient to help you as you are transitioning into a whole new lifestyle," she said.
Shanler noted that sponsored posts on social media are now becoming more video-centric and dynamic.
"There are a lot of analytics that can be gleaned from watching how people watch videos," she said. "We can see sometimes how long are you watching and when are you shutting off, and that's more dynamic than just 'Did you click on a standard banner ad?'"
In addition to providing more in-depth analytics of social media users, Shanler said that video advertisements help to grab the user's attention.
"It attracts the attention of the viewers," she said. "When you're talking about trying to break through the clutter and attract attention, it's the visual that's going to do that."
Kate Weiser, a junior studying public relations in COM and social media intern for BU, agreed that visual appeal is the key to good marketing.
"At the end of the day, the posts that people keep coming back to are ones that are beautiful and tell a narrative," Weiser said.
Weiser runs a popular Instagram account called bucketlistboston, where she posts various sponsored or "complimentary" photos for various hotel, food and accessory companies.
Despite her social media status as a micro-influencer, Weiser said she is also an avid social media user who, like many, gets frustrated with advertisements.
"I know in my business in the future I'm probably going to be doing that stuff," she said. "But as the consumer on the other side, I don't like when I see sponsored posts."
Weiser explained that she would be more likely to purchase something via social media if a friend posted about it, rather than a sponsored post by Instagram.
"Sponsored posts should be more real and authentic," she said.
Ultimately, Shanler said even the best advertisement cannot guarantee that a social media user will buy their product.
She said, "In the end, people are only buying things if it's the right time in their lives."