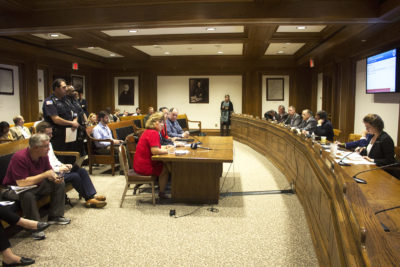 Two bills proposing legislation limiting state and local police access to U.S. military equipment were heard at the State House Tuesday.  
The bills oppose the U.S. Department of Defense 1033 Program, which allows the Secretary of Defense to transfer excess DoD supplies to state and local law enforcement authorities.
Alex Marthews, president of Digital 4th, a proponent of the House bill, wrote in an email to The Daily Free Press the legislation will require the approval of local residents before military equipment can be transferred to a municipality.  
"At stake is whether local communities in Massachusetts have any say over the military equipment and surveillance technologies being deployed by the police on their streets and in their skies," Matthews wrote.
Massachusetts Rep. Marjorie Decker and Sen. Michael Barrett spoke on behalf of the Senate bill, an act relative to acquiring military grade controlled property and oversight. Decker spoke about former President Barack Obama's executive order to limit military equipment provided to state and local law enforcement through the 1033 program.
"Under the Obama administration in plain reaction to Ferguson in terms of that conflict, President Obama acted an executive order that limited scope of equipment coming from the Pentagon," Decker said at the hearing.
Barrett said it is important to know what the state and local police departments acquire through the 1033 program.
"We file this because we strongly feel the [people] should know what their local police force is acquiring and for what purposes," Decker said.   
Barrett said the bill isn't a prohibition but an oversight of what the state and local police acquire.
"The idea here is to provide some reasonable boundaries around this process rather than to enact a strict prohibition," Barrett said at the hearing.
Barrett said there should be at least a public acknowledgement and discussion as to what police will be allowed to carry.
"At the state level, we need oversight of what the state police acquire and our bill will provide that." Barrett said. "At the local level, we would ask that there would be a public hearing, kind of a detail of what the local police department proposes to acquire under the 1033 program."
Several attendees said there should be more regulation and knowledge regarding police weapons and surveillance of civilians.
Steven Presser, 26, of South Peabody, said he is aware of all the unregulated equipment being used by police and would like legislation and public knowledge to be more prevalent.
"I do a lot of privacy work," Presser said. "I have seen how very innocuous things can be very revealing. I think it's important before these things go into the field to understand all the ramifications and understand what limits are necessary."
Presser said he knew representatives from the Boston Police Department were opposing the bills but said he thinks cameras could help them conduct more accurate investigations.
"I understand where they come from when they say they're against limits and red tape and things that stop them from getting tools but I think especially in the case of surveillance technology I think this is actually to their benefit," Presser said.
Mike Walsh, 29, of Lynnfield, said this litigation will take time and have to be heard by many courts before it can go into practice.
"There's a balance between law enforcement and security and Massachusetts has got a very good one but we're hoping to see a little bit more of a robust privacy law," Walsh said.
Walsh said Digital 4th asked people who felt passionate about this cause to come testify.
"[Marthews] sent out a message across all the interconnected privacy groups asking anyone who wanted to come out and support privacy or the 4th Amendment to come out and testify," Walsh said.
CORRECTION: The headline of a previous version of this article read "State legislators hears bills against police militarization," and has been changed to "State legislators hear bills against police militarization," for grammatical accuracy.