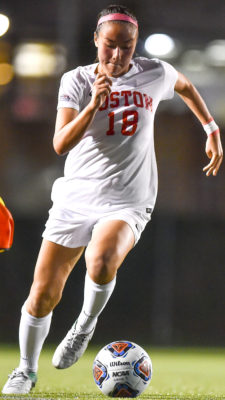 For 85 minutes, it appeared as if the Boston University women's soccer team's shutout streak would last for another contest.
The Terriers (5-6-3, 3-1-1) held the United States Naval Academy scoreless up to that point. Despite not scoring a goal of their own, BU outshot the Midshipmen (12-3, 5-0) and appeared ready to break through.
Devastatingly, this would not be the case. At 84:19, one of the top NCAA scorers struck again, as Ash Fairow scored her seventh game-winner of the season to pace the Patriot League-leading Midshipmen to a statement victory over the Terriers.
"We went into hostile territory against a very good team that has had a great record in-conference and out of conference," BU head coach Nancy Feldman said. "We pretty much competed evenly with them."
With a Wednesday night game against Harvard University at Nickerson Field, the Terriers have little time to think about their weekend loss.
The Terriers' aggressive mindset was displayed in the game, despite losing the game in the final minutes. Freshman Kiana Ghamarifard, sophomore Shannon Keefe and junior McKenna Doyle each released three shots and had one shot on goal. Graduate student Rachel Bloznalis chipped in a shot on goal of her own, a header off of a corner kick that was barely clipped by Navy goalkeeper Sydney Fortson.
"We know the conference has very strong teams, Navy being the best one we have seen so far," Feldman said. "We also know there are a couple of tough ones coming up."
BU has controlled the tempo in nearly each of their games over the past month, a trend which has translated into a 4-1-1 record over the last six appearances.
This is something that the team will look to keep up as they host the Crimson (7-5), who have been impressive against non-Ivy League opponents. Harvard comes in with a 6-3 record versus non-conference opponents, their most recent victory in that regard comes from a 3-0 shutout of Seton Hall University on Sept. 17.
Harvard dropped their first two Ivy League games, but the team got back on course on Saturday, traveling to Cornell University and knocking off the Big Red (2-6-2), 3-1.
In that game, three different Crimson players scored and outshot Cornell, 18-10. Two of those goals were assisted on by forward Murphy Agnew. The first-year player has been a notable addition to the Harvard squad, scoring a pair of goals while assisting on five so far this year. Her five shots led the team against the Big Red, and she has proven to be a focal point of the Terriers defense on Wednesday.
Defender and midfielder Leah Mohammadi has been another pillar of the Crimson offense to date. In her junior season, Mohammadi has scored four goals and assisted on two for a team-leading 10 points.
The Terriers will look to bring their style of play into the game versus Harvard, something Feldman said they struggled to do in their loss against Navy.
"Physically we were up to the challenge. Mentality wise, really strong," Feldman said. "Of course, the result we are not satisfied or happy with and we did not imprint our style as much as we would want to."