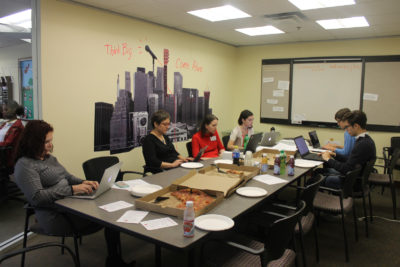 Kicking off Open Access Month — which celebrates free and equitable access to information — BU Libraries hosted a Wikipedia edit-a-thon Wednesday afternoon. There, library staff members taught a small crowd how to create and update articles for Wikipedia by offering tutorials and reference materials.
The edit-a-thon, which was held at the Howard Thurman Center for Common Ground, was the first in a series of activities and events planned for in October, according to BU Libraries open access specialist Anna Newman. Other institutions and organizations celebrate Open Access Week, but BU stretched it into a monthlong series to create more time for events such as this.
These celebrations are meant to emphasize the open access movement, a global initiative that expands the supply of readily available, unrestricted information — as compared to academic journals that require consumers to pay for information. Providing this access to information, according to Newman, is an important step in giving more people more opportunities to learn and share data.
"The goal of the open access movement [is] to create a more equitable distribution of information," Newman said before the start of the workshop. "Because really, information and access to information is really related to power."
Bradley Tober, a BU professor of design and visual analytics, said he thinks open access is an essential part of the process of making information more available and that edit-a-thons like these can help improve the quality and reliability of open access information.
"Open access promotes the idea that the democratization of information is just as important as the democratization of the technology that makes the dissemination of said information possible in the first place," Tober wrote in an email. "Edit-a-thons serve to empower creator-consumers and amplify their impact within the open access community through a focused effort to ensure the quality of open access information."
The edit-a-thon provided students and faculty the opportunity to practice the valuable skills of sharing their knowledge through a digital medium, Brad Wheeler, the learning experience designer at the Center for Teaching and Learning, said after the workshop.
"Open access, and particularly the edit-a-thon, offers an opportunity for students to practice that expression of digital scholarship that I think is critical for students going forward," Wheeler said. "Giving students and instructors the opportunity to make a real impact in the form of a community event is vital to maintaining the presence of our educational system."
BU Libraries has hosted similar workshops over the summer to train librarians, but for Wednesday's workshop, they opened it up to students for the first time.
Wikipedia offers users valuable learning opportunities that can be empowering, according to Laura Jenemann, the communication, media and film librarian who helped organize the edit-a-thon.
"[Wikipedia] is a tool we use every day and I think that it has a lot of ability that a lot of people may not realize," Jenemann said before the workshop. "It's something you can read and go participate in, and learning about how it's created makes you a more empowered user of Wikipedia."
Several edit-a-thon participants said they think Wikipedia is a useful resource that they wanted to learn more about, and the edit-a-thon provided them an opportunity to do so.
A'Llyn Ettien the head of technical services at the Alumni Medical Library, attended the edit-a-thon after already having been to other similar programs.
"I love these events," Ettien said. "It's nice to get people together that can work on their own projects and can work on what's interesting to you [and] to contribute to the worldwide greater good."
Andri Putra, a first-year graduate student in the School of Education, said he came to the event because he wanted to create more reliable information for his home country of Indonesia.
"[In] Indonesia, we have a large population, and we kind of are craving for reliable sources. Wikipedia is one of the most prominent tools for students and people in Indonesia to seek information," Putra said. "I wish to be one of the contributors for information that can be published immediately on Wikipedia in Indonesia."
Jennifer Robble, the information resources management librarian at the School of Law, said she participated in the edit-a-thon so she could aid in creating a Wikipedia entry for the library.
"I wanted to learn more about what's involved in creating Wikipedia pages and editing Wikipedia because our library is interested in creating our own Wikipedia page," Robble said. "We're just trying to learn the ins and outs of Wikipedia."
Amanda Kaufman contributed to the reporting of this article.