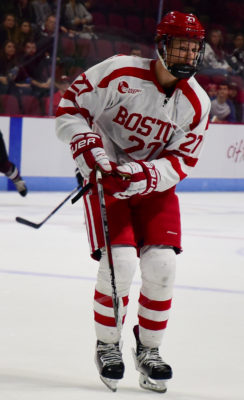 The wins have not come easily so far for the No. 2 Boston University men's hockey team. Yet, they have still come for the Terriers (2-0), who survived a tough 3-2 overtime victory over then-No. 14 Quinnipiac University last Sunday.
BU will be tested yet again this weekend as it will host Minnesota State University for a two-game set this Friday and Saturday and looks to remain undefeated.
Former goaltender Connor LaCouvee, who played three seasons with the Terriers, will also be making his way up to Boston with the Mavericks (0-1) as a graduate transfer and could possibly take the net.
However, BU head coach David Quinn said that his team is focusing on improving its own game.
"At this point in the season, everyone is just working on their own thing," Quinn said. "There's not a lot of team scouting. You just want to be good and what you are good at. You are trying to implement what you want to do."
The Terriers responded from two one-goal deficits to beat Quinnipiac (0-1-1), as sophomore forward Patrick Harper scored 53 seconds into the third period to knot the game up at 2-2 and force an overtime period. This tally was just one showing by Harper, who earned Hockey East's Player of the Week.
"[Harper] is a guy that works hard in every aspect of his life," Quinn said. "Whether it's training in the weight room, eating right, he just takes such great care of himself. We are just continuing to push him to a higher level. As long as he continues to work hard, he is going to continue to grow as a player."
Harper also netted BU's first goal of the game on the power play 3 minutes and 39 seconds into the second period before playing an integral part in the game-winner. On that play, Harper skated around the crease to the left side of the goaltender before rifling off a pass to freshman forward Shane Bowers.
"[I am] just trying to play the game the right way," Harper said. "When you do that, offense takes care of itself. I am not really focused on going out there and scoring goals. When you make the right play and extend zone time good things will happen. When you read your teammates and play with great players, things are bound to happen."
Bowers took two shots, the latter of which scooted past Quinnipiac's goaltender Keith Petruzzelli to give the Terriers the win. Senior defenseman Brandon Hickey assisted on the goal as well. 
"As that game went on, we got better in the offensive zone," Quinn said. "We created chances. Our defenseman got more involved. That's how we ended up scoring the goal. That is huge for us."
BU's freshman class has been a major key to their success thus far and will need to bring their best hockey to Agganis Arena should the Terriers wish to sweep Minnesota State.
Bowers has proved himself worthy in the face-off circle, going 13-9 against Quinnipiac on Sunday and is tied for second on the team in points with two alongside sophomore defenseman Chad Krys.
Freshman forward Brady Tkachuk's +3 plus-minus rating is tied for the team lead as well while Hank Crone has blocked two shots for BU.
Minnesota State tested itself with a season-opening matchup against No. 6 St. Cloud State University last Saturday and were picked apart, 4-0. St. Cloud State (1-0) received goals from four different players, scoring at least one goal in each period.
The Mavericks played a clean game, allowing their opponent just one power play opportunity, which they successfully killed off. However, St. Cloud State had their way with the Minnesota State defense and junior goaltender Jason Pawloski, who allowed three goals in 25 shots.
The Mavericks were also vulnerable at the face-off dot, faring just 28-36 on face-off opportunities. In comparison, Terrier junior forward Bobo Carpenter went 20-3 against Quinnipiac in face-offs.
Although, one feature of the game that the Mavericks did manage to control was their offensive aggressiveness. Minnesota State led in shots 42-26, but fell victim to a fantastic performance by opposing goaltender Jeff Smith.
Sophomore forwards Parker Tuomie and Charlie Gerard were the primary catalysts of this uptempo offensive style, putting six and eight shots on net, respectively.
While BU has set an early tone of having a physical presence in front of the net, the young team will be met with another physical opponent over the weekend.
"We want to continue to play at a pace," Quinn said. "We want to create more offense off of the rush. We want to make sure that from a systems standpoint we are executing our forecheck in the neutral zone properly."