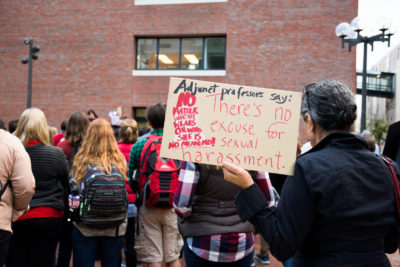 A number of female Boston University graduates have accused earth and environment department chair David Marchant of sexually harassing them during research trips to Antarctica. After the first allegations came out last year — nearly two decades after the incidents allegedly occurred — BU has begun investigating the claims.
In light of the surfacing allegations against Marchant, the BU Graduate Workers Union (UAW) held a rally Wednesday night at the Metcalf Science Center Plaza to show collective support for those adversely affected by sexual misconduct.
"This rally isn't about calling for the dismissal of professor Marchant," rally organizer and UAW member Jessica Lambert said. "It is truly an affirmation of our community values — a way to show support with anyone who's been directly affected by this incident and anyone who has experienced any form of sexual harassment, misconduct, assault or discrimination."
Lambert said through the event, titled "Speakout and Rally Against Sexual Harassment in Higher Ed," UAW sought to "organize collectively to help end harassment and assault on campus" — something that is a community problem, not just an individual one.
Hannah Kinney-Kobre, a sophomore in CAS and rally participant, said she thinks BU needs to take direct action regarding Marchant, including prohibiting him from taking students on research trips and suspending him while the investigation is ongoing.
"There needs to be much better, much stronger policies in place when it comes to issues of sexual harassment and abuse on campus," Kinney-Kobre said. "Because right now, there is no policy. There's Title IX, but there is no policy in place that provides a neutral arbitration process."
Among those accusing Marchant is Jane Willenbring, 40, a former earth and environment graduate student who had Marchant as her thesis advisor.
Marchant put Willenbring through "severe hazing" during a 1999-2000 three-week long research trip, according to Willenbring, who is now a professor in the geosciences research division of the Scripps Institution of Oceanography.
"He said he would 'break me down and build me up in his image,'" Willenbring wrote in an email to The Daily Free Press. "It was common to all sit in the cook tent and all look at porn together. There were often comments about how my body compared to the bodies of the porn models."
Willenbring also accused Marchant of calling her a slut and a whore, pushing her down a slope several times, throwing rocks at her while she urinated and trying to persuade her to have sex with his brother, who was also on the research trip, according to an Oct. 6 Science Magazine article.
Two other former students on the trip corroborated the accusers' stories with Science. Adam Lewis and Andrew Lorrey said they witnessed Marchant grabbing at and using derogatory language toward Hillary Tulley, another researcher on the trip, including language targeted specifically at her body.
Tulley, a high school science teacher in Skokie, Illinois, was assigned to work with Marchant — the project's principal investigator — and three male graduate students for a few months starting December 1998.
Tulley, who was 43 at the time of the trip, recalled the emotional distress that came with working with Marchant.
"There were unceasing comments about my body, my age, gross sexual comments, attacks on my intellect [and] attacks on my physical abilities that were constant," she said.
Besides the constant demeaning comments, Tulley said Marchant incited some physical altercations as well, starting when the research team stepped off the helicopter in Antarctica.
"I think I'd just maybe taken two steps, and he grabbed me by the shoulders and wheeled me around super violently," Tulley said. "I lost my footing, and [Marchant] screamed the c-word at me and told me I was lazy and that we had to set up camp right away — that it was a life-or-death situation."
Though almost 20 years have passed since their expeditions with Marchant, both Tulley and Willenbring said they've endured lasting, residual anguish.
"I'm still terrified of him, and there's nothing he can do to me," Tulley said. "I know that intellectually, there's nothing he can do to me in my job, and it's crazy to me that I still have this reaction."
Willenbring wrote that since her first field trip with Marchant, she has suffered physical symptoms — like urinary incontinence — in addition to academic harm. However, she believes the academic harm would have been worse had she reported Marchant sooner while still a student.
Willenbring added that she waited nearly 20 years to file her report against Marchant last October, as she did not want to cause further irreparable damage to her academic and professional career.
"The harm to my career, I believe, would have been worse had I reported it while I was a student," Willenbring wrote. "Students need recommendation letters to get into PhD programs."
Tulley noted that sexual misconduct victims are often hesitant to report their well-established superiors — as she and Willenbring were with Marchant — because of the power they wield over their futures.
"When someone is very powerful they often have the keys to the highway," she said. "[Powerful researchers] can tell other people, 'no don't read that paper, don't give them that grant, the science is bad, they're bad … It's a very lopsided power situation."
Willenbring initially reported her experience to Ann Cudd, the dean of the College and Graduate School of Arts and Sciences, last fall. Cudd passed the information along to BU's Title IX office, which launched an investigation. Marchant was notified of the allegations against him and submitted a rebuttal last December.
Willenbring then submitted her own "rebuttal rebuttal" in response, drawing in new documentation from two additional women who had similar experiences with Marchant. In total, the BU Title IX office received testimony from six former female students, two of whom were not affiliated with BU along with two male students who witnessed the harassment, according to Willenbring.
Following Science's story, which came out less than a week ago, Willenbring wrote that two more women have come out accusing Marchant of sexual harassment and gender discrimination.
In response to news of the allegations, some of Marchant's associates have come to his defense.
Rachel Watsky, a BU law student and a former student and lab assistant of Marchant, wrote that the allegations are shocking to her and do not align with Marchant's character, as far as she knows.
"I never experienced, saw nor heard of Dave sexually harassing women or discriminating against women," Watsky wrote in an email. "He was respectful of his students and did not favor male students over female students."
Watsky added that she knew Marchant as an encouraging professor who treated everyone equally.
"He was very proud of all of his students," she wrote. "My graduating class had more women than men in it. Dave was always happy to act as a work reference for his students or to give them a letter of recommendation."
Marchant did not respond to multiple requests for comment.
Tulley said despite all of the damage and distress rooted in the case, Willenbring's initial courage to come forward with her story and subsequent publicity surrounding the case has raised awareness of the issue's pervasiveness and can precipitate long-lasting change.
"I want people to feel empowered, and [know] that no matter what happens in this situation, at least it's out there and people are going to have to talk about it," she said. "No matter what [happens], at least there's been some publicity, and I know that there's going to be conversation happening."
Willenbring's fortitude, Tulley said, started the momentous chain reaction that may bring relief to victims at BU and beyond.
"People can walk around all day long and say they support these things," she said, "but you know it's the actions, not words. I'm relieved it's out, and I'm ever grateful to Dr. Willenbring for her absolute stellar courage in starting the ball rolling."
Andres Picon and Alana Levene contributed to the reporting of this article.