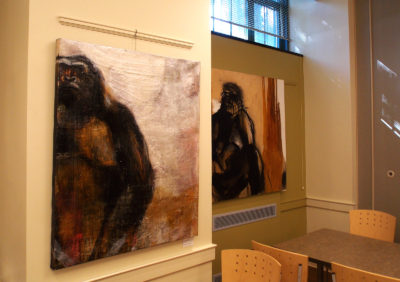 Over 10 years ago, Jen Bradley started visiting the Franklin Park Zoo every day. But she wasn't drawn to the lions or giraffes, like others often are. Instead, she made a beeline for the gorilla exhibit.
Now, those gorillas are depicted in oil paintings on the walls of Boston University's School of Theology.
Selected paintings from Bradley's personal series, "The Ape Drawing Project," are being displayed there until Dec. 20, which are all based on charcoal drawings she's been creating since 1994.
According to Bradley, the project emerged from a figure drawing assignment she completed as a senior at the Massachusetts College of Art and Design.
"I was interested in anthropology and biology and had been taking side classes at [University of Massachusetts] in those subjects," Bradley said. "I wanted to find a way to link my two interests, so for my figure drawing class, I did an independent study drawing these gorillas at the zoo, and I just never stopped."
For around 10 years, the project was limited to charcoal drawings until Bradley said she decided to turn some of them into paintings. These paintings vary widely in scale and use primarily oil paints and caustic wax paints, she said.
During the original run of the project, Bradley watched and drew the gorillas for six hours. Although she tends to go once a month nowadays, she still spends the same length of time on each visit.
"I always thought it was important to go for an entire day," Bradley said. "It's part of the experience of understanding them."
One might not immediately associate gorilla artworks with STH, but for Kara Jackman, archivist and research collections librarian at STH, there's a definite link.
"These artworks have so many facets to them and so many different ways to look at them," Jackman said. "You can look at them in terms of captivity, moral questions, human/nature relations. It's something to think about and that sort of critical thinking is something we want to encourage in our students."
Jackman was first was introduced to the artist last year by a doctoral student who suggested she exhibit some of the art at the 2016 Theopoetics Conference, an interdisciplinary theology dialogue held at BU.
However, her interest in the paintings went beyond seeing them at the conference, she said.
"Jen's art immediately 'clicked' with me, and I wanted it on display here again," Jackman said. "I feel like art like this helps us understand our humanity — who we are, where we're going and where we come from. I want to foster that in our students, no matter where they end up career-wise."
Jackman said she hopes professors in STH will discuss the paintings with students and make links between the art and other areas such as religion and science.
Bradley also agreed that a multidisciplinary approach is important, since the project originally started as an intersection of two separate fields.
"It's evolved over time," Bradley explained. "First it was about watching gorillas, but then I started watching the humans watching the gorillas and realized how odd it is, this idea of apes watching apes. I started to think about themes of sociology along with art, biology and anthropology."
The artist said she often finds herself thinking about the artificial separation between humanity and nature.
"When you look in the eyes of any animal — an ape, a whale, anything — you see something powerful. I'm not the only person who's said this," Bradley said. "When I sit there, it's very intimate and present. I feel like the best art comes from those powerful, emotional experiences."
She said she also believes in the ability of art to raise larger questions.
"While I work on this project, I can't avoid thinking about that sadness of captivity," Bradley said. "I try to let that come through, and make art about the experience overall, everything that comes with it. I want to get people to stop, look and pay attention to something they might not have otherwise."
The lack of an overarching end goal is integral to "The Ape Drawing Project," and, to Bradley, there's something about it that has to be flexible and spontaneous. She said she plans to continue the "The Ape Drawing Project" as long as she can.
"I want to keep following my curiosity and fascination with nature — that will stay with me for my whole life," she said. "Animals are amazing. We always seem to forget humans are animals, too. The possibilities opened by engaging with that fact; that's what excites me."