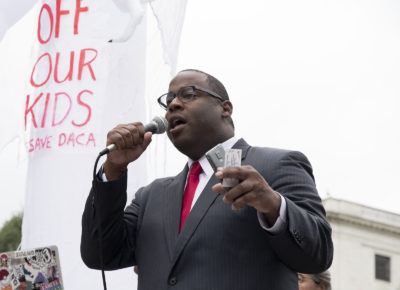 Mayoral candidates Tito Jackson and Boston Mayor Martin Walsh participated in their first joint public debate since the start of their campaigns Wednesday night at Hibernian Hall in Roxbury.
Walsh began his opening statements, reiterating his promise to Boston youth, pledging to them opportunities for housing, education and a sound market for job security.
"In the next four years we're going to continue to strengthen Boston together, because we need to make sure that Boston is for all of us," Walsh said.
Jackson took a more aggressive approach in his opening words, claiming Walsh has not kept his promise to the City.
"I'm running for mayor, to become the next mayor of Boston, because Marty Walsh has made promises that he did not keep, and because he has forgotten the people that I represent, and all of those good people in the city who are committed to creating a more equitable and fair City of Boston," Jackson said.
Throughout the debate, both Walsh and Jackson answered a series of questions based on ongoing hot-button issues in the City of Boston, to the cheers and occasional negative exclamations from the crowd.
On the topic of violence in certain neighborhoods within the city, Jackson said it is important that the City recognizes every life as equal.
"We can make sure that a life lost on Blue Hill Avenue is the same as a life lost on Commonwealth Avenue," Jackson said.
Agreeing with this statement, Walsh added that it is equally as important to build on connections within neighborhoods.
"What we want to do is continue to work to create programs and opportunities to make sure that we strengthen our relationships in our neighborhoods," Walsh said.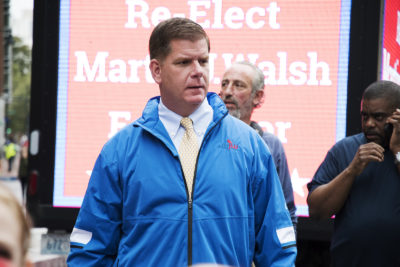 Addressing the issue of the controversial Boston Police Department body camera pilot program, Walsh said although it is too soon to say whether or not the program is appropriate in Boston, it is important to foster positive relationships between residents and local law enforcement.
"It's about building up trust in the community and also diversifying our command staff so that we can build trust in the neighborhood," Walsh said.
Jackson, on the other hand, claimed there should never have been a pilot program in the first place.
"We simply should have adopted body cameras," Jackson said.
On the topic of economic development within the city, Jackson said wealth disparity is a major issue across Boston neighborhoods, especially in relation to people of color.
Walsh responded to Jackson's comments on the issue of wealth disparity by acknowledging the problem, and pointing to the work that is being done by his administration to work with small businesses within the city.
"The majority of our businesses in Boston aren't the bigger businesses they're the smaller businesses, the ma and pop stores on the corner of our streets, and we're working with our economic development to make sure we give people the tools they need to move forward," Walsh said.
In regards to the issue of affordable housing, Walsh pointed to the progress made in increasing the availability of low-income units.
Under his administration, Walsh said the low-income and moderate-income housing they've built in Boston has effectively kept people living within the city.
In their closing statements, both Walsh and Jackson called for residents to come out to the polls and vote on election day.
Jackson told the crowd to cast their vote in his favor Nov. 7, pledging to do what Walsh could not in his last term.
"This mayor does not have the political will to fight for working and middle class people in the city of Boston and I'm here because the streets are littered with campaign promises that have been broken," Jackson said.
Walsh ended his portion of the debate to standing ovation, pledging his allegiance to the City of Boston.
"I'm the son of immigrants, I'm living the American dream every single day," Walsh said. "I love this city, I'm going to continue to love this city … [and] I get up every morning as mayor of the city to fight for this city."