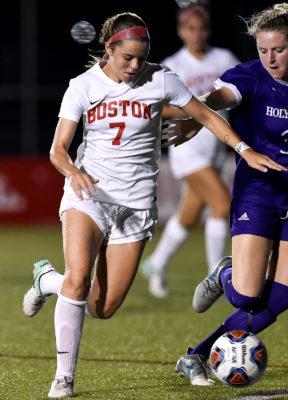 After a defeat at the hands of the United States Naval Academy last weekend, the Boston University women's soccer team got back on track with a 1-0 victory of Harvard University on Wednesday night.
Now, the Terriers (6-6-3, 3-1-1 Patriot League) will shift their attention backs toward Patriot League play as they play host to Loyola University Maryland on Saturday at Nickerson Field.
BU has had a number of instances in which they have outshot their opponents, and Wednesday was no different. The Terriers took 20 shots to the Crimson's six, landing twice as many shots on goal and corner kicks as Harvard, with eight and four respectively.
Head coach Nancy Feldman said she was impressed by her team's defensive performance. However, she said she still wished they had converted more chances on the attacking end.
"I mean we should have scored a couple more goals. This is one of the things we've got to improve on," Feldman said. "We've got to finish our chances so we're not living so much on the edges."
The Terriers scored early against Harvard in the contest and never looked in the rearview mirror. A little over halfway through the sixth minute, freshman midfielder Anna Heilferty scored her fourth goal of the season, striking it off of a feed from senior forward Christina Wakefield.
This tandem has paced BU offensively over the course of the season. Each has scored four goals and netted a pair of assists. They are tied for the team lead with 10 points each. Wakefield's 14 shots on goal is tied for the team lead, and each of the two high-volume scorers have netted game-winners this season.
Feldman said she would like the team to be more steady throughout the game.
"I'd just like to see us be a little bit more consistent in how we use possession in a game more to make it a little bit easier on ourselves by passing it and moving" Feldman said. "Not trying to recreate the wheel by finding new ways to try to break the other team down when we have found ways to do it."
BU will continue to play hard defensively when the team faces Loyola (3-9-1, 0-4-1). The Greyhounds are No. 8 in the Patriot League in goals scored per game by averaging .538 while the Terriers rank fourth with a 1.2 average.
When Lit comes to shot, Loyola averages 3.77 shots on goal per game, which is last in the Patriot League. Their average of 7.00 shots per game is almost half of the number of shots the Terriers average.
Loyola hasn't only struggled offensively. Their save percentage of .695 is last in the Patriot League.
Over their last four in-conference games, the Greyhounds have been outscored, 8-0. However, they were able to break a seven-game winless stretch with a 2-0 defeat of Delaware State University on Monday.
In the game, Loyola's offense found success, as Julianna Cabrera and Taylor DiMarco both netted goals while goalkeeper Sumer Rahe made three saves in 90 minutes of action.
Because of their underwhelming win total, the Greyhounds are to Nickerson Field with momentum.
Feldman said that she wants her team to continue what they have been doing this season in their game against Holy Cross.
"It's really just continuing to do what we're trying to do better. It's just a process of improving how our defending, organization, mentality and hustle create pressure on the other team," Feldman said. "It's defending strong in critical moments and it's battling for 50/50s, and winning the physical challenges."
Eli Griswold contributed to the reporting on this article.