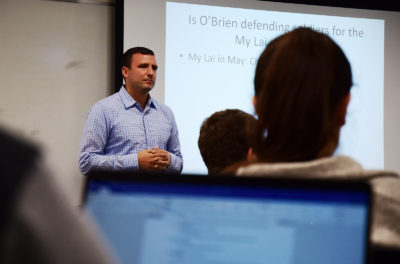 The Boston University Lecturers Union came to an agreement with the university after threatening to strike and unanimously ratified their first contract Friday afternoon.
This contract came days before a "massive faculty walkout," according to a SEIU Local 509 press release. It will include yearly salary increases, the creation of a professional development fund and paid professional leaves, among other benefits, said Molly Monet-Viera, a union member and a senior lecturer in Spanish.
Full-time lecturers will see pay increases over the three years of the contract. During the first year of the contract, BU lecturers will on average receive a 15 percent increase in salary, with the lowest-paid lecturers receiving the biggest increases. The new salaries will be $60,000 for lecturers, $68,000 for senior lecturers and $74,000 for master lecturers, which will be implemented in January 2018, Monet-Viera said.
"[This contract] means that once they decided to be represented that they've been able to negotiate a fair contract, and the deal includes increases in their wages, in the salaries and opportunities to earn more based on merit," BU spokesperson Colin Riley said.
Also included in the contract was the promise of hiring stewards that the union will train to ensure the contract is implemented properly and a distinguished service fund for those who have been teaching at BU for a long time. There will also be a joint labor union management committee that will meet twice a semester, composed of lecturers and BU administration, to continue to discuss issues that affect the lecturers, Monet-Viera said.
"In a lot of ways it's a great victory and in a lot of ways it's exposed an inertia and a lack of commitment to really making the kind of changes that would benefit students and enable us to be the best teachers possible," said Monet-Viera, who's in her seventh year at BU.
This disconnect between the lecturers and the university was apparent during the negotiations, she added.
"People were definitely not satisfied before this," Monet-Viera said. "Having been in the room for most of the negotiation, there were times when the university committee treated us with such disdain and disrespect that it was clear they thought we were disposable."
But both parties agreed they share a common priority of educating BU students.
"We always want to make sure that we can not interrupt services to students, especially the core aspect of what's here for students, like teaching folks and making sure that research continues to get done," dean of students Kenneth Elmore said after the negotiations. "Every day, we try to maintain regular operation. Now certainly, things come along to possibly disrupt that, like labor issues and those sorts of things. You still try as best as possible to keep things moving along."
Although the new contract marks a positive change for lecturers, there's still work to be done, Monet-Viera said.
"I think we're going to continue to have to fight," she said. "I think it's going to be a multi-year struggle … The first contract is the first step in the right direction. And then we have to keep doing it."
Alana Levene and Sabrina Schnur contributed to the reporting of this article.