The No. 2 Boston University men's hockey team dropped the first of two tilts against Minnesota State University, 6-3, on Friday night at Agganis Arena.
The Mavericks (1-1) were not intimidated in their first contest in Boston.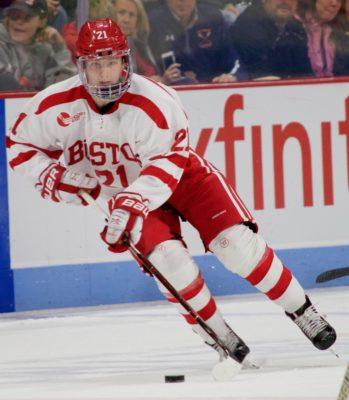 Defenseman Daniel Brickley recorded three assists to pace Minnesota State, who received goals from six different players.
Forwards Jake Jaremko, Charlie Gerard and Zeb Knutson each enjoyed one goal and one assist games.
For the Terriers (2-1), a two-goal night from Shane Bowers and a two-assist performance from Brady Tkachuk were not enough to give the team to its third straight victory.
BU was outshot 45-35 while the Mavericks controlled the face-off dot to the tune of a 36-30 advantage.
"I'm not happy with a lot of guys tonight," BU head coach David Quinn said. "I'm concerned about giving up six goals [while] our goalie played well. Thank God it's Friday. We get to come back and play tomorrow. This is a surprise to me because I have not seen anything like this since we have been together."
In goal, former BU goaltender Connor LaCouvee impressed with a .914 save percentage in his return to Agganis.
His counterpart, sophomore goaltender Jake Oettinger, made a plethora of impressive stops, but six goals allowed plagued his performance.
"It was pretty surreal, kind of weird at first being on the visitors side," LaCouvee said about playing against his former team. "It was a lot of fun. Lot of familiar faces. [It was] nice to play against them."
Despite the rough finish, the Terriers got on the board immediately out of the gates.
Just two minutes into the contest, Bowers took a centering pass from freshman forward Hank Crone following a turnover and sniped it past LaCouvee on a power play to give his team an early 1-0 lead.
However, Minnesota State responded immediately on a power play of their own.
Just 16 seconds into the man advantage, Mavericks forward Zeb Knutson poked a shot past Oettinger off of a chance by forward C.J. Suess to tie the game up with 15:42 to go in the first quarter.
The Terriers then rode the power play to their second goal of the game.
With 11:50 remaining in the first period, BU capitalized on a Nick Rivera penalty. Greenway found a bouncing puck and flipped it over LaCouvee, finishing off a chance initiated by sophomore defenseman Chad Krys and junior forward Bobo Carpenter.
Minnesota State got the equalizer at the conclusion of the second period. Brickley grabbed the puck at the left dot and wristed it over the top of Oettinger's stick, off of the crossbar, and in with just over three minutes left in the first period.
The Mavericks grappled hold of the lead for the first time all game 3:40 into the second period. Charlie Gerard grabbed a loose puck and whipped it off of the right post and in, defeating Oettinger glove side.
"We got better as the game went on," Minnesota State head coach Mike Hastings said. "[We are] fortunate to win a hockey game. Big win for us. We have struggled a bit out of conference in the last couple years. We found a way to survive some self-inflicted wounds [at the beginning]."
Greenway went to the box for slashing just two minutes later and the Mavericks obliged. Defenseman Ian Scheid collected the faceoff victory by center Jake Jaremko at the left point and ripped it top shelf past Oettinger, doubling the Mavericks' lead at 4-2.
This lead continued to grow with five minutes left in the period.
Defenseman Riese Zmolek joined the scoring party, flipping a shot from the left point off of Dante Fabbro and past Oettinger to silence the Agganis Arena crowd.
But BU would not go away silently.
Just two minutes after Zmolek's tally, Bowers created some pressure on LaCouvee up ice. He beat a defender and released a shot that LaCouvee deflected.
However, the puck-hawking Harper was there, and he finished the chance for his fifth goal of the season.
After a scoreless first half of the third period, Minnesota State pushed their advantage back to three goals with 10:29 left to go.
Fourth-line forward Jared Spooner wriggled free from the BU defense in the middle of the zone, where senior forward Zeb Knutson found him on a centering feed. His first rip was stopped by Oettinger, but Spooner was able to collect the rebound and knock it through to provide a 6-3 lead.
"Every guy has to make a commitment to playing the right way tomorrow night," Quinn said. "What gets lost on all of us is how simple this game is. They were zipping across the offensive zone because we did not go near anybody."