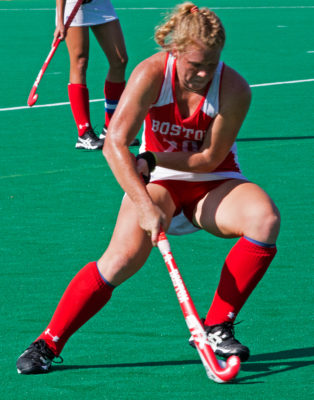 The Boston University field hockey team suffered a 3-2 loss in overtime to rival Boston College on Sunday at New Balance Field. Sunday's game marked the fourth straight meeting between the Terriers and the Eagles that has entered overtime play.
The Eagles (11-5) got on the scoreboard first with Alesandra Miller's goal in the fourth minute of the game assisted by Lucy Lytle.
Scoring was at a standstill until the 20th minute of the first half when the Terriers (9-6, 4-0 Patriot League) tied the game thanks to senior Allie Renzi's goal, assisted by junior Kara Enoch.
BC managed to score one more goal before the end of the first half coming from Lytle, which was assisted by Emily Buttinger.
BC held a 2-1 advantage for a majority of the second half before a penalty corner opportunity for the Terriers allowed freshman Kathryn Scheerer to score off of a rebound for her first collegiate goal as the 2-2 tie held for the remainder of regulation.
"Overtime is really important to value the ball, take care of the ball, make good decisions, take the initiative of the game to score a goal," said BU head coach Sally Starr.
The overtime period was short lived as BC's Fusine Govaert scored in the 73rd minute off of a pass from Ymke Rose Gote to win the game 3-2.
In the physical and competitive match up, the referees gave out six total green cards — three to BU and three to BC.
The reason the team was unable to perform as they did offensively in their last two matchups, Starr said, was due to the level of competition that comes along with playing the prestigious Boston College field hockey program.
On Oct. 13, the Terriers outscored the College of the Holy Cross 8-1, and on Oct. 9 the Terriers outscored Northeastern University 6-1.
"I was absolutely pleased that we were able to outshoot [BC], out corner them and really create a lot of good offense," Starr said. "Their goalie played a really good game. When you're trying to score against a team like BC, you have less space, less time, a lot more pressure on you to get good shots off."
The Terriers managed to outshoot the Eagles 14-11 in total, 10-6 in the second half.
BU also earned 6 penalty corners while BC received 3.
"We definitely could have executed [penalty corners] a little bit better than we did," Starr said. "We didn't have the right personnel in at times because of substitutions when we had a couple of those APC's."
BC goalkeeper Sarah Dwyer made 3 total saves on the game while BU goalkeeper junior Kathleen Keegan made 4 saves.
The Terriers have just three games left of the regular season before tournament play. Starr stressed the importance of facing tough competition like BC before entering the most crucial part of the year — postseason play.
"We're a young team and we just keep getting better and better. [BC] is an outstanding team and we are just getting really close to knocking off one of these teams," Starr said. "We want to be playing our best come November."