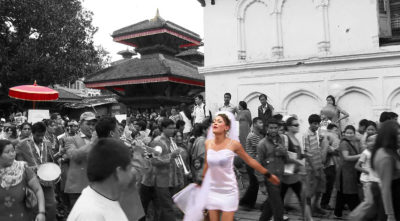 For Nani Sahra Walker, every good project starts with one thing: passion.
Considering how many different projects she has dedicated herself to, it's a necessary component to getting everything done.
The 36-year-old resident of Berkeley, California describes herself as a documentary filmmaker, virtual reality producer and educator, apart from all of the other roles she takes on: writer, producer, editor, production designer for an award-winning music video, creative director of her own production company — when it comes to visual media, Walker does it all.
Yet Walker said she didn't follow a typical path to a career in media. She graduated from Boston University with a bachelor's degree in philosophy, but she said she maintained a lifelong interest in film.
"I've always been really interested in photography and visual media," she said. "During my last year at BU, I worked on a number of student films, and after I graduated, I moved to New York City and started working at a production company."
There, she worked as an assistant editor and did some animation work, learning the tools of the trade. She said she took those skills into freelance work, spent some time working as a camera operator, and eventually realized she wanted to make her own films, with a particular interest in documentaries.
So she said she packed up and moved across the country to Los Angeles to start her own production company, Dancing Star Films.
The long-distance move to California is something Walker said she's used to. Born in Kathmandu, Nepal, she spent most of her adolescence in Mountain View, California, and graduated high school in Japan. She then lived in Boston, New York and Los Angeles before settling in Berkeley, where she is currently working on her master's degree in journalism and new media.
This background, she said, is where her passion for documentary filmmaking stems. Her identity as a Nepalese-American woman led her to directing and producing her international feature documentary, "Other Nature," about the lives of third-gender activists in Nepal.
"For me, the biggest motivating factor was that I'm Nepali, and I've always seen Nepal and Tibet depicted in the media in two ways: one of exoticism, and the other of poverty," she said. "They are these two extremes that I don't feel embody the reality of contemporary Nepal … 'Other Nature' was a way of putting a lens on contemporary Nepal and looking at it as a country that's struggling but, in a way, very reflective and progressive."
In discussing the conception and execution of "Other Nature," Walker talked about the difficulties and unique advantages she faces as a woman of color in a historically male-dominated industry.
"Choosing to be a filmmaker is challenging because I don't see many role models like myself," she said, "but I don't want to let what seems to be an obstacle get in the way of the work I want to do."
But on the other hand, Walker said that being a woman of color gave her more of an opportunity in delving deep into the intimate lives of third-gender activism in Nepal than she would have had if she had been a man.
"I have access in certain areas where I feel like I wouldn't have gotten the story if I had been a straight, white, middle-aged male — in making 'Other Nature,' I became one of their sisters," she said.
Walker said she does like to walk on the lighter side of life, though. In her diverse list of projects, films, and awards, one stands out as what she calls an especially "fun surprise" — winning an MTV Video Music Award for Best Rock Video in 2015 for her work on Fall Out Boy's "Uma Thurman" video.
"That was awesome," she said with a laugh. "It was so last minute, but it was superb."
This is where she recalls most frequently encountering the frustrations of working with so many different people at once.
"One day [shooting for 'Uma Thurman'] we were out in the desert, waiting all afternoon, and we were hot, and people were frustrated — it can be challenging keeping morale up to see the bigger picture."
She said she likes working on projects with a purpose.
"There has to be some kind of a bigger statement in a project or film I'm working on for me to be interested," she said.
Most recently, she said she found this as the cinematographer for the Student Academy Award-winning documentary, "Hale," directed by Brad Bailey. She said it was Bailey's enthusiasm in documenting the life of disability rights activist Hale Zukas was drawn to film.  
Bailey spoke in high regard of Walker's work and ethic.
"She's steadfast about her work, and her mission; she's always there with a willing smile and a willing attitude," he said.
As for her future plans, Walker said she is excited to dip her hand in uncharted waters as the project lead in developing a virtual reality prototype with the Center for Augmented Cognition and the Graduate School of Journalism at the University of California, Berkeley.
She said, "I'm interested in the completely new framing of storytelling with VR – the idea of an experience as opposed to a viewing."