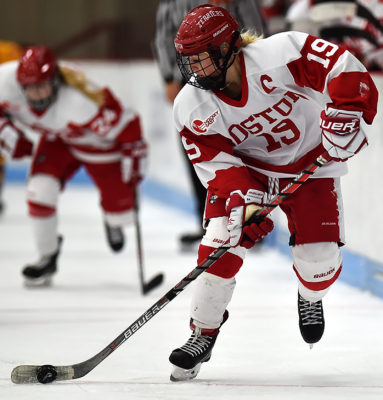 The Boston University women's hockey team will head to Orono, Maine to face off against the University of Maine on Friday at 2 p.m. in an effort to win their first game of the season before returning home to play the University of Connecticut on Sunday.
In their first contests of the 2017-18 season, the Terriers (0-3, 0-3 Hockey East) struggled to get winning goals in close-scoring games.
BU suffered a 2-2 overtime loss to Concordia University in an exhibition matchup on Sept. 22, a 2-1 loss to Merrimack College on Sept. 23 and a 3-2 overtime loss to Northeastern University on Oct. 6 before falling 6-3 to Northeastern (2-3-1, 2-0 Hockey East) the following night.
"We need to find a way to win, and that's multifaceted, whether it's getting a puck out of your zone, whether it's making another save, whether it's scoring on the power play, any and all of those things could be part of it," head coach Brian Durocher said.
Durocher said he is not underestimating a solid Maine (4-2) team that did not qualify for the playoffs last season.
The Black Bears' roster includes a stack of older, experienced players and Durocher said that getting away with a win would be a formidable challenge for the Terriers.
Sophomore forward Tereza Vanisova leads Maine in points with 10, consisting of three goals and seven assists.
Vanisova was key in the Black Bears' 5-2 victory against then-No. 10 Robert Morris University on Oct. 14 after collecting two goals and two assists.
"We've never gone up there and dominated," Durocher said. "It's always been that when we win we're pulling teeth and squeezing by, and we've lost a few games up there. I have great respect for how [Maine head coach Richard Reichenbach] coaches. Their team has really got confidence on their side right now and it'll be real tough to get out of there with a win."
Later on in the weekend, the Terriers will host another Hockey East competitor, UConn (3-2, 0-1 Hockey East).
The Huskies are coming off a successful series against Union College where their offensive forces were on display after outscoring Union (0-5-1) by a margin of 11-1 over the weekend.
Sophomore forward Briana Colangelo and freshman forward Natalie Snodgrass, who lead UConn with seven points each, were key threats over the weekend and will pose a challenge to BU's young team.
Durocher emphasized the importance of his experienced players in aiding the six new freshman, and readjusting with key players out due to injuries.
He said the two transfers, junior defenseman Reagan Rust from Rochester Institute of Technology and redshirt sophomore defenseman Abbey Stanley from the University of North Dakota, will help lead the squad with experience.
"They have experience and we count on them for leadership, not just with their ability, but with what they know about college hockey," Durocher said.
With injuries forcing key players to the sideline, younger players have had to step up. Durocher said that has been an adjustment the team has faced early on this season.
"From a hockey standpoint, we're just trying to be thorough in every area," Durocher said. "I don't think we can play wide open hockey or try to score more goals than the other team in the high number sense. We have to try to beat people 3-1 and 3-2 for a little while we get people healthy and get some depth back in the line up."
The younger players are making their presence known by already getting on the scoreboard this season.
Freshman forwards Nara Elia and Kristina Schuler both notched their first collegiate goals of their careers against Northeastern on power plays.
"It's nice to know that some of the younger kids, Nara Elia, Kristina Schuler, got on the scoresheet so far and when that goes well it's a real positive because the Rebecca Leslie's, the Nina Rodgers, the Victoria Bach, those kids are going to score goals throughout the course of the year," Durocher said. "They're going to produce points, but if we can get some young kids involved it's really important."