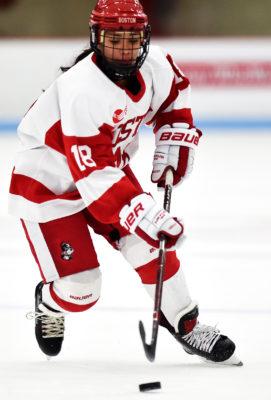 Junior transfer defenseman Reagan Rust made her debut for the Boston University women's hockey team count as she scored the Terriers' (0-3, 0-3 Hockey East) first goal of the season against Merrimack College on Sept. 23. Rust also notched an assist in the first game of the Northeastern series on Oct. 6.
The Southaven, Mississippi native spent her last two seasons with Rochester Institute of Technology before transferring to BU. The Daily Free Press caught up with Rust to talk about her transition to a new school, goals for the season, her favorite professional athlete and more.
What was it like transferring to BU?
[It's] a lot different. It's right in the city and I was used to country and having a car and everything like that. Now everything is constantly nonstop and I kind of like it that way.
Who or what do you think made that transition easier?
My teammates and my coaches definitely made the transition a lot easier for me. They were always there for me to talk to and they helped me with any question that I had.
How would you describe your first few games with the Terriers?
I'd say it's gone pretty well. You can see that we have a lot of potential and I think as the season progresses we're going to just keep getting better.
Do you have any specific goals for this season?
I really just want to win the Beanpot [Tournament]. That and a national championship, but one thing at a time.
What's your favorite thing about the fall?
Well [it's] the start of hockey season so that's pretty nice.
What is your favorite holiday?
I'd have to say Thanksgiving.
What has been your favorite thing about Boston so far?
I just love how many opportunities [there are] here and there's so much room to grow.
Who is your favorite professional athlete?
Definitely [Pittsburgh Penguins captain and forward] Sidney Crosby.
Do you have a place you like to eat around campus?
Sweetgreen. I really like that place.
Who are some of your favorite singers or bands you like to listen to?
I like Mumford and Sons. I don't even know. This is a hard question [because] I like a lot of things.
If you could visit any place in the world, where would it be?
I want to go to Italy.
You're originally from Mississippi, what do you miss most about home?
The country. I just like being able to take my car and go on long drives being on the country roads.
What would you say is the most different about Boston and Mississippi?
They're the two polar opposites. I mean it's a lot warmer that's for sure and there's not as many people and everything's more spaced out I think in Mississippi.
What is your biggest fear?
I'm not really scared of much because I'm not scared of moving or anything like that obviously. I don't really have a terrible fear, maybe mice. Yeah, definitely mice.
If you were stuck on a deserted island, what three items would you bring?
Rust: Could I bring a boat?
FreeP: Yeah.
Rust: Alright — boat, gas and food.
What's your favorite class you're taking this semester?
My Writing 150 class.
What is your favorite thing about playing for BU head coach Brian Durocher?
He's the most calm person I've ever met in my life, and he's so funny and he doesn't know it.
Which game on the schedule are you most looking forward to?
Definitely playing my old team [on Nov. 3 and 4 at the Walter Brown Arena].
When were you first introduced to hockey?
I was five years old and I started going [SPHL Mississippi] RiverKings games. [They're] like a semi-pro team in Mississippi.
What's the biggest lesson you've learned from hockey?
When you get knocked down, you got to get back up no matter how many times it happens.