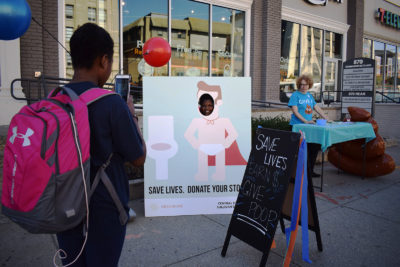 OpenBiome, a nonprofit stool bank, opened its doors for donations from local community members at its new 870 Commonwealth Ave. site, offering up to $40 per sample.
The research organization dedicated to expanding safe access to fecal transplants held an open house early Wednesday afternoon at its new West Campus location to encourage prospective donors to consider donating and teach them how to apply.
The organization serves two main functions — providing fecal transplant material to clinicians to treat patients and performing research on the human microbiome — explained OpenBiome external affairs manager Emily Langner. It operates local labs at Sullivan Square in Somerville and Central Square in Cambridge.
Langner said OpenBiome has partnered with nearly 1,000 health providers and several clinical researchers based across the country and is excited to debut its bank on BU's campus.
"We're involved in a variety of ways, from providing [research facilities] with the material to helping them ensure their research studies," Langner said during the open house.
Meg Muckenhoupt, OpenBiome's external affairs manager, said OpenBiome chose to open a bank at BU specifically because of the variety of local people and potential donors. She noted its diverse and vast demographics.
"[At BU], a lot of people are interested in science, and a lot of people are interested in helping the greater world," Muckenhoupt said. "Stool donation isn't just for healthy vegans or people who work out a lot — it's for everybody."
Langner said that anyone interested can go online to join the registry. Interested donors first fill out an online form with background information, and then once contacted by OpenBiome, a detailed health questionnaire to begin the screening process, she said.
"It's a pretty extensive process, but we make it as easy as possible," she said.
OpenBiome typically responds to applicants within two weeks of them submitting their primary application to inform them of their results.
"If you pass that initial screening, we'll invite you for a clinical interview where you'll do an in-person health assessment with our medical staff," Langner added. "There's a little bit of additional testing that's done on blood and stool samples before you're officially a donor."
After the stool is donated at the bank, samples are transported to OpenBiome's main site in Somerville. The sample then gets processed, strained and put in a buffer solution that is sent out to more than 900 partner hospitals, according to Muckenhoupt.
The samples are turned into treatments for patients with Clostridium Difficile infection – a bacterium that causes diarrhea and serious intestinal conditions such as the inflammation of the colon — Muckenhoupt said.
"[Openbiome] sent out 11,000 treatments for C. Diff infections last year," she said. "We're also supporting 18 different clinical research trials into conditions such as inflammatory bowel disease, irritable bowel syndrome, obesity and other conditions to see if change in the gut bacteria can help heal these chronic conditions."
Donors are compensated $40 per sample — which can produce up to five treatments for the C. Diff bacterial infection.
"We pay $40 per stool for [student] donations because we know it's a pain to come here and you have to go through health screens," she said.
Several local community members expressed interest in donating their stool samples to OpenBiome.
Cherise Everett, a sophomore in the School of Hospitality and Administration who was at the open house, said she was familiar with the stool donation process and was interested in getting involved.
"I've been recently learning about how this has been used to save lives when people go through chemotherapy," Everett said. "I would donate if it was someone I know or needed."
Another open house attendee, Marina Majarian, expressed interest in reading more about stool donation after learning of the positive impact it can have.
"I didn't realize you could take someone else's stool and save lives," the Harvard University clinical researcher said, "I'd definitely be interested in donating."
Austin Woo, a College of Arts and Sciences sophomore, said he is interested in applying to donate not only for the financial incentive, but also to support a greater cause.
"It's not just about receiving the $40, but also helping someone with their body," Woo said.
He added that he appreciates how the new location makes it convenient for interested donors.  
"Because they come on campus, it makes it easier to fit into their schedule," he said. "I feel like I could make a positive impact."