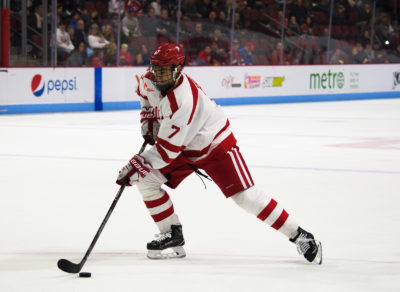 The No. 7 Boston University men's hockey team will look to turn its luck around against the University of Connecticut this weekend as its Hockey East games begin. The Terriers (2-2) will welcome the Huskies (2-2, 1-1 Hockey East) on Friday night before heading over to the XL Center in Hartford the following evening.
While UConn split its series with the University of Maine earlier this month, the Huskies will be the Terriers' first Hockey East opponent of the season and BU head coach David Quinn said this early on in the season, it's hard to determine what kind of identity each team in the league will have.
"We're both trying to figure out what we have and what our personalities are and what our identities are, just like most teams in the country are I imagine," Quinn said. "We've just got to concern ourselves with ourselves and not worry about our opponent and respect them for sure."
The Terriers enter the matchup coming off a disappointing sweep by Minnesota State University.
A two-goal night from freshman forward Shane Bowers and junior forward Jordan Greenway's first tally of the season were not enough to get BU past the Mavericks (2-1) and the score ended at 6-3 on Friday.
The following game, the Terriers responded better to Minnesota State's physicality, but were unable to find the back of the net, eventually falling 3-0.
Despite this offensive lag, sophomore defenseman Chad Krys, junior forward Bobo Carpenter and freshman forward Brady Tkachuk have put up 18, 15 and 14 shots respectively this season and have yet to collect.
Quinn said it's only a matter of time before one of these players scores.
"Without question [scoring is] just something that sometimes the puck finds its way to the back of the net, sometimes it doesn't," Quinn said. "I think those guys will certainly get on the board hopefully sooner rather than later and when they do, we're certainly going to be in a better position."
Sophomore forward Patrick Harper leads BU with six points — consisting of four goals and two assists, but will first have to get through UConn's sophomore goaltender Adam Huska.
Although Huska let in a total of seven goals against American International College and Sacred Heart University over the weekend, the goaltender currently sits on a .920 goal save percentage and 2.43 goals against average.
Last season at Agganis Arena, Huska held off the Terriers' offense for a 4-0 shutout and Quinn said he is not to be undermined.
"Listen there are good goalies all across our league and if we don't get in front of him and take away his eyes, we're going to have a hard time and that's something we have to have in our game more," Quinn said. "We've been a little too perimeter. I think that's a sign of immaturity and at this level, there's not a lot of pretty goals that are scored."
The Huskies have shown their ability to put up five or more goals in a single game, but were limited to one goal by Sacred Heart (1-2) even though they put up 45 shots.
BU's defense will play a large factor in whether or not it can contain UConn's core group of offensive players – forwards Alexander Payusov and Karl El-Mir, and senior defenseman Johnny Austin –to a limited amount of goals.
These three players lead the Huskies with five points each as Payusov has notched four goals and Austin has set up five goals, but a total of 11 UConn players have scored over the course of four games.
This offensive depth will pose a challenge to the Terriers defense that fell behind on Friday night against the Minnesota State, letting up 45 shots while sophomore goaltender Jake Oettinger made 39 saves.
"We've got to be physical on them," senior defenseman and captain Brandon Hickey said. "That's the most tiring part of hockey, the physicality part of it. If we're physical on them and wear them down out front, they won't be able to sustain a level of play through the weekend here so we've got to make sure we're leaning on them and making them battle and not just giving them anything easy."
Overall, Quinn said that the team had a good week of practice and is ready to work hard, and move past the Minnesota series.
"Obviously last weekend was incredibly disappointing and surprising, but we got to move past it … I'm very confident that we'll see the team we saw the first two games instead of the last two," Quinn said.