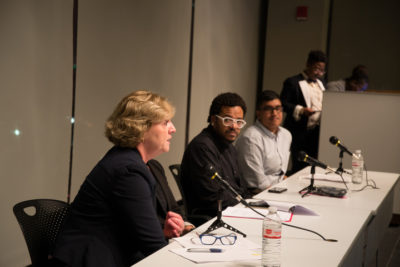 To commemorate Domestic Violence Awareness Month, the Fenway Health Center held a panel on Monday night to discuss culturally competent care and local resources for LGBT survivors of domestic violence and sexual assault.
The inspiration for the event came from Bianca Phoenix, a member of Fenway Health, and her involvement in LGBTQ anti-violence organizations, working within the LGBT community and her own personal experience.  
"This came across to me as a personal thing," Phoenix said prior to the panel. "I am a survivor and going into a group … saying I am in a relationship with a woman, there would be a hush over the room. It always felt like I was in the wrong room and I felt like a lot of the facilitators did not know how to handle that."
Within the LGBT community there are other forms of oppression members face when trying to access help such as classism, homophobia, transphobia, biphobia and heterosexism, Phoenix said.
"Facing intersecting oppressions, it becomes difficult to trust that we will be cared for with respect and dignity," Phoenix said. "We're here to talk about what cultural competency looks like at organizations that we have here today, and what that can look like elsewhere, and share resources."
Phoenix said during the panel to about 100 people, that according to the 2015 report from the National Coalition of Anti-Violence Programs on intimate partner violence involving LGBT people, 44 percent of survivors trying to access emergency resources were denied, and 71 percent say it was due to their gender identity.
The report also highlights race as a factor in intimate partner violence, with the majority of survivors identifying as people of color, Phoenix said.  
Fari Sattar, outreach worker and advocate for the Violence Recovery Program, a grant-funded program within Fenway Health, said Fenway Health works to provide resources and services to survivors of sexual assault, domestic violence and hate crimes.
"The mission of Fenway Health is to enhance the overall well-being of the lesbian, gay, bisexual and transgender community through access to the highest quality healthcare, education, research and advocacy," Sattar said.
Tanekwah Hinds, the women's health program coordinator at Fenway Health and co-organizer of the panel, defined cultural competence as "the ability to interact effectively with people of different cultures."
"In practice, both individuals and organizations can be culturally competent," Hinds said. "Culture is a term that goes beyond just race and ethnicity, it can also refer to such characteristics as age, gender, sexual orientation, disability, religion, income level, education, geographical location or profession."
To be culturally competent, organizations and individuals need to be able to listen to the populations they serve and be willing to learn new information to better serve these individuals, Hinds said.
Joan Meunier-Sham, program director of the Massachusetts Sexual Assault Nurse Examiners program, said she focuses on the importance of serving patients with respect and giving them back the control they often feel like they've lost.
"One of the big factors of domestic violence is taking away power and control and we try to give that back by from the beginning by letting the patient take charge of the exam," Meunier-Sham said. "It's about being in the moment with somebody and listening, no matter how long the exam takes, knowing that you're taking the time to do this."
Several people who attended the event said they appreciated the panel for providing information on resources which are not widely known to affected community members.
Susan Le, 23, of Lowell, said she was interested to see what resources were going to be discussed at the event and aimed to give help to those who may be unaware of available services.
"I was curious to see what resources were in the community, [the] main reason being, as a survivor, going through it, I had no idea where to start, no idea who to talk to and after almost a whole year of living life and trying to be a normal person, [and] dealing with trauma, now that I know the resources in the LGBT community, I feel obligated to let people know about them," Le said.
Paul Sindberg, 20, of Waltham, said the panel was a refreshing take on this issue.
 "It was therapeutic almost, being in this space where people were talking about the fact that these issues are really deeply interrelated and that we need to emphasize that and prioritize that as the foundation of the work and not just as an accessory," Sindberg said.
Claire Geruson, 27, of Brighton, said he came to the event to learn more about the available resources and be better equipped to serve members of the community.
"I was also looking to be in a space where people are really excited to be affirming because I don't think that we often get that," Geruson said. "I think it can be a good support system because it doesn't normalize the experience of sexual assault, it continues to say this is not right, this is not normal, this is not just a trending Facebook status, this is really people's lives."