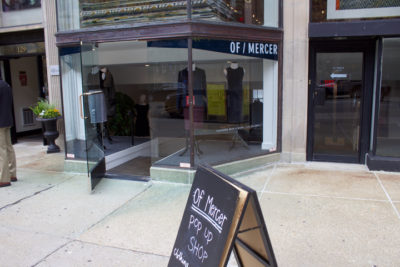 "Toss your hair in a bun, drink some coffee, put on some gangsta rap, and handle it," reads one quote of many that decorate the walls in Of Mercer's Newbury pop-up store.
Last Tuesday, in partnership with Boston University's herNetwork, Of Mercer hosted a "Sip and Shop" event, which encouraged students to learn how to dress professionally while enjoying sips of champagne.
Sophia Smith, president at herNetwork, said Of Mercer reached out to he
rNetwork BU hoping to set up an event. Smith said, she was initially hesitant about the collaboration but became open to partnering with the brand after hearing its story.
"At first I was a little skeptical because we don't usually do shopping events," Smith said. "I found out they were started by two women who wanted to create comfortable and wearable workwear, and I think as undergraduates, it's important to us to have comfortable clothing that's still business, especially with all our business presentations."
Based in New York, Of Mercer "create[s] clothing that just so happens to be office-appropriate too," according to the company's website. Until Jan. 5, the NYC exclusive brand will reside at 127 Newbury St., temporarily expanding its physical locations.  
Katie Rydell, director of partnerships and events at Of Mercer, shared the company's origin story.
She said that Emelyn Northway and Dorie Smith, then students at the Wharton School of the University of Pennsylvania, noticed they were wearing the same dress. Upon discussing the gaffe, they realized it was the only business-casual piece that made either of them feel comfortable.
"This should not be the case," Rydell said. "There should be hundreds of dresses that make people feel good." Thus, one woman's fashion nightmare became two women's inspiration to found a company.
Of Mercer caters to office workers, who go from their desks to dinner, constantly pressed for time. Because all their designers are women with business backgrounds, Of Mercer's fabrics and cuts have been influenced by their designers' personal experiences.
"Basically, our clothing is absolutely [safe for work]," their website reads. "We obsessively check every neckline and skirt hem a million times — so you can relax."
Smith can attest to the challenge of finding good professional clothing. After transferring to BU's Questrom School of Business, Smith said her wardrobe needed major alterations.
"When I transferred in my sophomore year, I had no idea what to wear," Smith said. "I quickly found out that I needed to get a suit, so I went to Banana Republic, and I still have that suit, but now that I have so much more business workwear, I've found that it wasn't great quality and it's so hard to wash."
Rydell said there should be an easy transition between the pieces women wear for the office and for their personal lives.
"It's good to find pieces that work for both and there should be no reason to have two separate wardrobes," Rydell said.
Kimberly Chen, a junior in Questrom, said she enjoyed the versatility that Of Mercer had to offer in terms of shapes and colors.
"Traditionally in the office, you would see black, gray, and white," Chen said. "Now not all women have to look  like carbon copies of the next person."
With their motto "Women Mean Business," herNetwork BU strives to support female students in business by facilitating strong relationships that empower them to pursue whatever they want, according to Smith.
"We're a networking and mentoring group for undergraduate BU women … open to all majors," Smith said. "Through our discussion-based meetings and speaker panels, workshop events … we just want to connect undergraduates and educate our members in order to help start their careers."
"We had two freshman who came in," Smith said. "I was really excited that they came because they needed workwear and I was really excited that they were able to buy some stuff."
Reflecting on the power of workplace clothing, Smith said it's a potential confidence booster.
She said, "When you put something on and feel good about yourself in it, it will give you the confidence that you need to nail that interview or do well with a big presentation."