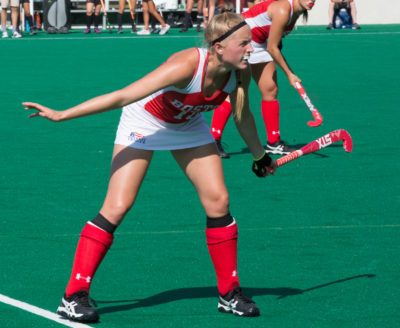 The No. 21 Boston University field hockey team fell to the No. 16 Harvard University Crimson 2-1 in the Terriers away finale.
In a physical contest, the Terriers (10-7, 5-0 Patriot League) came back from a one goal deficit to the Crimson (11-4) but failed to mount a second comeback attempt.
"[It was] a very physical game," BU head coach Sally Starr said. "The pace of this game was a championship like pace."
Harvard achieved their highest national rank in program history this season — getting up to No. 13 in the country on the Oct. 3 NFHCA Division I Coaches Poll, and may climb again with their victory over the Terriers.
Harvard opened the scoring in the sixth minute when sophomore Casey Allen cleaned up a Mimi Tarrant rebound.
Just over two minutes later, Terrier freshman forward Petra Hall netted her fifth goal of the season to tie the game at one goal apiece.
Junior forward Kara Enoch assisted on Hall's goal to extend her point streak to five consecutive games.
Starr referenced the team's resiliency and ability to fight back after getting in early deficits.
"We've been down by some goals and have come back [before]," Starr said. "The mentality of this team is to just keep fighting, competing and play for 70 minutes or longer if we need to."
Freshman Millie Baker started in goal for the Terriers allowing one goal and saving two shots. Junior Kathleen Keegan relieved Baker and maintained an identical stat line.
Harvard scored the go-ahead goal with 25:05 remaining when Hannah Wellington made a stickhandling move into the circle and passed Keegan on a back-handed flail.
Following a timeout with 6:19 remaining, Starr decided to pull the goalie in favor of an extra field player. Freshman back Kathryn Scheerer donned the green pinnie as the added athlete.
"We haven't done it all year and it's something that we talked about doing [while] getting ready for postseason play," Starr said. "We had the opportunity to do it tonight and now we have some video to work off of and can fine tune that part of their game as well."
BU was awarded just one penalty corner. Harvard had two and all three corner attempts came in the first half.
Playing a ranked team helped the Terriers stay sharp for the remainder of the season.
"I loved having the opportunity to play a really good team," Starr said of the Crimson. "They play fast, hard and it was a physical game in a lot of ways."
Starr added she was proud of her players for maintaining their composure.
"There could have been retaliation in a game like this," Starr said of the increased physicality. "I'm proud of our girls for holding their composure together."
Part of that physicality is embodied by Terrier freshman Miya Denison. She took a ball off the face with some nasty bleeding, but returned to the game just a couple of minutes later with a large bandage on her chin.
"Tough as nails," Starr said of Denison. "Miya is the epitome of what this freshman class is, a little blood a couple stitches, it doesn't matter."
The Terriers return home to New Balance Field Saturday for their final regular season tuneup before the conference tournament against Patriot League foe Bucknell University.
"I really loved tonight,  I would have loved to have gotten the victory," Starr said. "But, I think from a preparation standpoint it really is going to help us be a better team come next Saturday, and ultimately in a semifinal game and then a championship game if we get there."