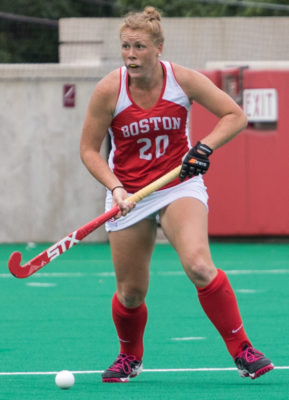 With just 70 minutes of regulation field hockey remaining before the conference tournament, the Boston University field hockey team will face Patriot League foe Bucknell University at New Balance Field Saturday in hopes of finishing off an undefeated conference schedule.
The Terriers (10-7, 5-0 Patriot League) look to turn the table in conference play and extend their Patriot League regular season winning streak to 22 on Saturday afternoon.
"Our last match helped us to find out what we need to do on Saturday against Bucknell," BU head coach Sally Starr said.
The Bison (8-8, 3-2 Patriot League) have come out on top in five of their last six contests including conference victories over Colgate University, Lehigh University and the College of the Holy Cross.
The Bison have come on strong as of late despite starting the year as what looked like a last place finish in the Patriot League. In their 2-1 victory over Holy Cross (6-10, 2-3 Patriot League), the Bison secured their 10th straight Patriot League postseason nod. Bucknell has earned the second most penalty corner attempts in the Patriot League with 118. The Terriers have had 92— fourth out of the seven teams.
Corners mark the prime scoring chances for most offenses, and Starr said the team can do a better job of earning corner chances.
"We can be smarter to try and get corners," Starr said. "We are confident in our corners for sure."
Bucknell sophomore forward Brittany Willwerth leads the Bison with seven goals and six assists. Junior back Lexi Quick also makes an impact on the offensive end, registering five goals and six assists.  
The Terriers must keep a watchful eye for senior back Stephanie Dressler as three of her four strikes were game-winning goals.
She, like Terrier junior Ally Hammel, is a defender by position but posses a complete offensive arsenal.
Goalkeeper Emily Finn has started all 16 games in goal for Bucknell. The senior holds a 69.1 save percentage and a 2.39 goals against average.
Both Finn and and Quick were honored with weekly awards for their play from Oct. 16-23. Finn earned the Corvias Goalkeeper Player of the Week after stopping 8 shots on goal in the victory over Holy Cross and four more in a win over Lock Haven University.
Quick was named Corvias Defensive Player of the Week after contributing two assists and helping the Bison defense to surrendering just one goal in each of its games last weekend.
BU's own junior forward Kara Enoch secured the Corvias Offensive Player of the Week after tallying two goals and an assist for a career-high five points against Lehigh (4-12, 1-4 Patriot League).
The Terriers faltered 2-1 Tuesday night against Harvard University, but look to regain momentum heading into the Patriot League Tournament. The Crimson (11-4) are a surprise team in the NCAA and were ranked as high as 13th this season — their best mark as a program.
"This match is really going to help prepare us," Starr said after the Harvard game. "We just want to establish consistency [against Bucknell] we could be better at taking care of the ball, we're close."