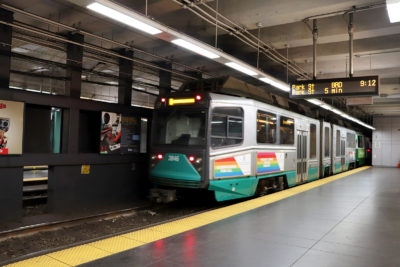 A group of bus mechanics have said there is only one bid, submitted by the bus service company First Transit, for the privatization of the Massachusetts Bay Transportation Authority bus garages.
Machinists Union Local 264 Boston, the union representing MBTA bus mechanics, launched a campaign to fight against this privatization effort in September, The Daily Free Press reported.
Mike Vartabedian, the business manager for IAM Local 264, said the fact that there is only bidder, which Vartabedian said has a history of unreliability, is a bad sign for the MBTA. First Transit had backed out of a contract with the MBTA in the past, and paid out $7.3 million in settlements.
Besides the broken contract, First Transit also has had previous issues with poor bus maintenance, safety violations, and labor disputes, Vartabedian said.
"You're talking about getting, statistically, the best bus mechanics in the country … [and] getting rid of them in exchange for a company that has a very long history of poor service," Vartabedian said.   
If there was to be a labor dispute between bus mechanics and First Transit and a strike occurred, the strike would affect garages, which were not privatized. Essentially, a strike would shut down transit throughout the entire city, Vartabedian said.
"If [First Transit] comes in here and think they are going to cut wages in half and think that they are going to maintain a good workforce, then that creates a revolving door," Vartabedian said. "People, if they're not getting paid well for their services, and these are skilled mechanics, they'll just go someplace else."
Even though there is only one bid and strong opposition to that bid, Vartabedian said he doesn't believe this will be the end of the privatization effort.
"It's a failure on their part, but does it mean that privatization is over? No," Vartabedian said. "I think that the public needs to speak out and I think that the legislative needs to speak out on this clearly failed system."
Joe Pesaturo, the spokesperson for the MBTA, wrote in an email the MBTA's efforts to "test the private market" are a result of higher than average bus maintenance costs and the capital needs of their facilities. They are going about this through a three-step plan, which involves negotiating with labor unions.
"Consistent with the direction of the Fiscal and Management Control Board, we continue to adhere to a three-part strategy, which includes negotiating with our labor unions, in good faith, driving productivity through internal management initiatives and exploring opportunities to partner with outside entities," Pesaturo wrote.
Pesaturo said the MBTA has not made any official announcements or given details as to the privatization process to maintain its integrity. However, through the process, the T has gained data it previously lacked.
"The T will be able to use this information to produce a more cost effective and efficient bus maintenance operation that will benefit both the ridership and the taxpayers of the Commonwealth," Pesaturo wrote. "As part of our three-part process, we look forward to continuing to work with our partners in labor and other key stakeholders to ensure the best outcome for the ridership."
Several Boston residents expressed a need for a change in how the MBTA is run, but not necessarily through privatization.
Ken Fretwell, 63, of Jamaica Plain, said the MBTA needs to deal with its funding issues instead of turning to privatization.
"I've heard [of the MBTA privatization plans] and it's a lousy idea," Fretwell said. "The MBTA needs to first get properly funded. It's more a matter of finding an excuse to deal with it. If it goes private it's just going to go cost up because there's really no interest if the taxpayers are paying for it to keep it financially sound."
Daniel Hunter, 29, of East Boston, said the current issues with the T affect him and could be improved, but privatization might cause more harm than good.
"Everybody's always used to what they're doing and everything and then if they privatize it it's going to mess it up for them too," said Hunter. "There will probably be budget cuts and everything it will mess up the transportation even more than it already is."
Nycole Macedo, 27, of Allston, said if workers were to strike it would affect her entire day.
 "[A strike] would 100 percent effect my daily commute," said Macedo. "I rely only on public transportation so that would affect me immensely."
CORRECTION: A previous version of this article contained the headline, "MBTA bus mechanics union says privatization effort is over." The headline has been changed to more accurately reflect the contents of the article.