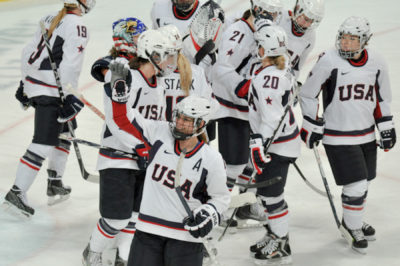 Two of the most dominant women's hockey teams in the world kicked off the next leg of their historic rivalry to the deafening roars of a sold-out Agganis Arena Wednesday night.
In preparation for the Olympic games this winter in PyeongChang, South Korea, the United States' women's hockey national team have partnered with Toyota for their The Time is Now Tour, which includes a minimum of four games against Team Canada.
Both teams have have ties to Boston. Massachusetts is the second largest producer of U.S. players, with four hailing from the Massachusetts area — captain Meghan Duggan, assistant captain Kacey Bellamy, Kali Flanagan and Alex Carpenter.
"It's nice knowing all those players, especially being around them so much," Carpenter, a North Reading native, said. "You really develop camaraderie that way."
The Carpenter bloodline runs deep in Massachusetts hockey, with her father Bobby playing parts of four seasons for the Boston Bruins and her younger brother Bobo currently playing for BU men's hockey team as well as serving as assistant captain.
Even more have had the luck to play in front of Boston as their home crowd.
From the  National Women's Hockey League's Boston Pride comes the likes of Bellamy, Carpenter, Brianna Decker, Hilary Knight, Gigi Marvin and Amanda Pelkey.
Hockey East is also well-represented with Kendall Coyne having played for Northeastern University and Carpenter, Flanagan, Emily Pfalzer and Megan Keller representing Boston College.
Keller, a native of Farmington, Michigan, is well acquainted with Boston hockey after spending the last three years as an Eagle.
"It's awesome to be back here, even on the wrong side of Comm. Ave.," she joked after a pre-game practice. "We're all excited to play against Canada, it's a huge rivalry and they're a great team. We know it's going to be an amazing game."
Of course, BU isn't without its notable alumni in the game.
Jennifer Wakefield and Marie-Philip Poulin, two former Terrier teammates, are on Team Canada's roster, with Poulin again having a "C" on her chest.
Their success together on the Canadian squad dates back to the 2011 IIHF World Women's Championship, where they won silver in a 2-3 overtime loss to U.S.
However, this winter they will be defending the gold medal they won together during the last Olympic Games in 2014 — with a 3-2 overtime win over the U.S.
While playing for the BU women's hockey team, Wakefield served as captain for the 2011-12 season and became the first person to earn over one hundred points in Hockey East history. Poulin then inherited the letter, wearing it during the 2012-13 and 2014-15 seasons.
Both Wakefield and Poulin came to BU during the 2010-11 season and said they have fond memories of their time there.
"It's really special to be back, especially with Team Canada versus U.S.," Poulin said. "A lot of great memories happened here, it's a special feeling."
Wakefield echoed Poulin's comment.
"It's great being back to an old stomping ground and seeing the landmarks," Wakefield added. "These games are always fun."
While at BU, they played under current BU women's hockey coach Brian Durocher, who had immense praise for both athletes.
"They're obviously fantastic players," Durocher said. "[Wakefield] started out at University of New Hampshire, and we were lucky she decided Boston University was the right place for her career. Poulin led us to great success, [as] a great teammate, player and person. She's the benchmark for the Canadian team [and] as good a player as there is."
Durocher also added that his players have had success on the international stage, which could be attractive to players thinking about playing at BU.
Representing national teams isn't something of BU's past. On their current roster, six players have played for their home countries in the IIHF U18 World Championship.
With passions high, the game started chippy. A tripping penalty for Team Canada 53 seconds into the matchup established the mood for the extent of the game.
The teams fought hard, with Team USA outshooting Team Canada 38-23. However, Team Canada left Agganis the victors, with an end score of 5-1.
PyeongChang will be the 10-year anniversary of the 1998 Nagano Olympic Winter Games, the first games that featured women's ice hockey. Despite Canada being the wide favorites going in, the U.S. team beat Canada at both meetings, earning them the first Olympic gold of its kind and motivating a new generation of American hockey players.
In an arena packed with young women, clad in their youth team's jerseys and American flags, it's easy to see the truth in Durocher's words and the passion these players inspire in the next generation of Massachusetts hockey.