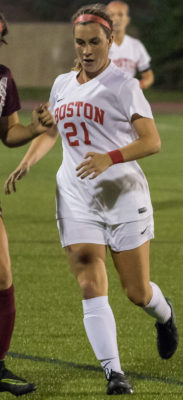 The Boston University women's soccer team will host Colgate University Saturday afternoon in their last regular game of the season.
Both teams have already clinched their spots in the playoffs as the Terriers (8-7-3, 5-2-1 Patriot League) currently sit behind the Raiders (9-5-2, 5-1-2 Patriot League) in the league standings at fourth place.
BU is coming off a close road loss to Bucknell University and hopes to regain momentum with a league win over Colgate. Last weekend's game was a competitive match, with the Terriers outshooting the Bison (10-7-0, 7-1 Patriot League) 18-17.
However, the Terriers failed to capitalize on second half opportunities to equalize the game.
The Terriers' performance against Bucknell falls in line with their rather poor showings on the road this season. They are 2-5-2 in away games, a drastic contrast to their stellar 6-2 home performances. The team should be able to summon their home turf success against Colgate this Saturday.
The team usually follows an aggressive playing style that centers on taking an abundance of shots. This season, BU has outshot its opponents 280-169, which has ultimately contributed to its 23-16 goal ratio.
Looking at Colgate, the Terriers see many comparable characteristics. This season, Colgate has consistently outshot its opponents by a similar margin and notched slightly higher average shots per game at 16, opposed to BU's 15.56.
Nonetheless, BU head coach Nancy Feldman said she is confident in her team's ability.
"We have a strong enough team to play any team in the conference [well]," Feldman said. "I like the way the team has developed from the beginning of the season to now."
On the other hand, the Terriers have outperformed the Raiders on the defensive end.
BU has limited opponents to only 16 goals this season, whereas the Raiders have allowed 24.
While the competition is expected to be fierce, BU can look to their defensive front to secure a victory. Evidenced in many of their games, a solidified defense not only frustrates opponents but also generates fuel for the offense to score.
Still, the team will continue to play within a framework centered on offense.
"The best defense is a good attack," Feldman said. "Having possession of the ball and playing in their half, with territorial advantage, is a great way to put yourself in a position to defend … It's always been a formula of our and the team has really embraced it."
Over the past several years, the Terriers have had success — most notably in their conference play. However, last year was their first sub .500 season since 2002. While eight of their nine wins were in league games, they had a .452 season win percentage.
"We've had some bumps in the road," Feldman said. "But we're in the right place at the right time. These girls are a really resilient bunch."
If the Terriers beat Colgate though, the Terriers will be ensured to finish the season slightly over .500, with six conference game wins.
"We've evolved into a pretty good soccer playing team," Feldman said. "We've always been focused on our team defending and really being committed to it. It's a point in the season where you trust where you're at. I trust where we are at."
Beyond this weekend's match against the Raiders, BU will enter the playoffs with high hopes and aspirations — since the team reached the league finals last year.
"This program knows a lot of success," Feldman said. "I tell the team that every year is its own journey … This year is its own story that has its own path."