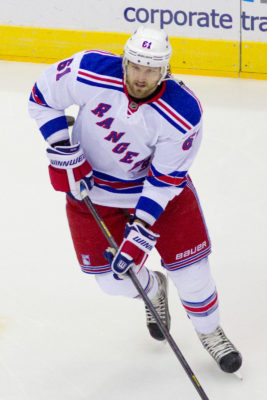 There's a new team in the NHL and in under 10 games played, they're not doing too bad. But some players in the league have the potential to hit 1,000 games this season.
Rick Nash hit 1,000 games last night at Madison Square Garden against the Arizona Coyotes. Nash was drafted by the Columbus Blue Jackets in 2002, and played there as a staple forward for 10 years before coming to New York. While he just hit 1,000 games, he's yet to win a Stanley Cup. And it's unlikely that he will get a ring on his finger if he stays with New York for the rest of the year.
The Rangers need major reworking, and Nash might be part of that process. Don't be surprised if he's moved around after this season, because his contract is up after this season.
Antoine Vermette has played 990 games in his career, but for five different teams. Vermette has one Stanley Cup under his belt after a brief stint with the Chicago Blackhawks. He was only with the team from February to July 2015, but luckily for Vermette, that overlapped Chicago's third Stanley Cup win in six years.
Vermette then moved back to Arizona for a year before going to the Anaheim Ducks. He is playing among aggressive centres Ryan Getzlaf and Ryan Kesler. The Ducks could be the next California team to hoist the trophy, but it probably won't be for another two or three years, or until they figure out their goalie situation.
Speaking of California teams, right winger Dustin Brown is sitting at 973 games played for the Los Angeles Kings. Brown was drafted in the 2003 draft, a year before the 2004 lockout. Brown played that year with the AHL Manchester Monarchs before returning to Los Angeles.
Brown was a strong, stable captain for the Kings through years of redevelopment, victory, and restructure. Part of that restructure involved replacing Brown's captain role with Anze Kopitar.
The Kings won two Stanley Cups in three years, then failed to make the playoffs. The team needed a leadership change up, and they got that and more. Less than a year after Kopitar took over as captain, head coach Darryl Sutter was relieved of his duties.
Roberto Luongo is the only goalie on this list, and he might not even make it to 1,000 games played in this season, even though he's already at 970. Luongo was placed on injured reserve after injuring his right hand against the Pittsburgh Penguins on Wednesday.
Dan Hamhuis might not make it to 1,000 games played either, and he's at 958. The defenseman was once the backbone to a tough Vancouver Canucks team, but two major injuries in the 2014-15 and 2015-16 seasons left him missing out on the last two seasons with Vancouver.
In July 2016, Hamhuis signed a contract with the Dallas Stars, a team in desperate need of some tough defense. The contract is up at the end of this season, so Hamhuis has a lot to prove, and he's being counted on to stay healthy.
The next three listed may depend on playoff contention, and will certainly depend on how many games they rest this season.
Matt Stajan is currently with the Calgary Flames, and his chances of going far enough into the playoffs to turn his 943 into 1,000 is slim. The forward has been a solid member of the Flames since his arrival in 2010, but the caliber of "solid" players on Calgary doesn't really mean much.
The Flames have missed three playoffs in the last five years, and they haven't gotten past the second round since 2009. So Stajan could reach that goal, but again, it all depends on health and how far the Flames make it through the playoffs.
Brent Seabrook has gone deep in the playoffs before, winning three Stanley Cups with his Chicago Blackhawks. Seabrook is currently sitting at 933 games played, and may have to wait until next season to hit that 1,000 games. He has six more years on his contract, so it's likely he will step over that milestone with the only NHL team he's ever played for.
Arguably the biggest name on this list, Alex Ovechkin is at 930 games played. Depending on how healthy he is, how many games he sits out this season, and how deep the Washington Capitals get in the playoffs, Ovechkin could hit this major mark this season. It would be a tight squeeze to get all of the 70 games needed in, but you never know with the scoring superstar.
Keep your eye on these guys throughout the season. They might hit that lucky number 1,000.