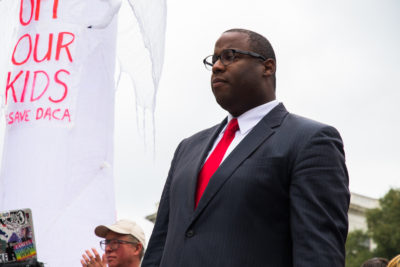 Boston mayoral candidate Tito Jackson was endorsed by author and children's advocate, Jonathan Kozol, Tuesday, which is one endorsement among others that have not been made public by Jackson's campaign.
Kozol, most known for receiving the National Book Award for his 1967 novel, "Death at an Early Age," currently travels the country and gives lectures regarding issues of educational inequality and racial justice.
Kozol said Jackson is the right pick for mayor of Boston because he could address racial issues within the city.
"[Jackson is] the mayor we need to bring together one of the most painfully divided cities in the nation," Kozol said in his endorsement statement. "It can't be done by promises and repeated healing rituals. It's going to take urgency. It's going to take visionary leadership and Tito Jackson is the one who has it."
This announcement comes only days after Massachusetts Sen. Elizabeth Warren officially endorsed current Boston Mayor Martin Walsh, Mike Leyba, the press secretary for Jackson's campaign, wrote in an email.
Leyba wrote that endorsements won't necessarily earn candidates a victory on Election Day.
"Endorsements are not the way to win elections," Leyba wrote. "You should not look at Elizabeth Warren's endorsement of Marty Walsh as a negative for our campaign; you should ask why it is that he feels like he needs this endorsement now and why is he working so hard to convince progressives in Jamaica Plain that he's their candidate?"
Leyba wrote he feels confident Jackson will win the Nov. 7 election because he believes the city is behind him.
"Our edge is that we have a nimble, innovative strategy to win. We are not scared to take on the political machine of Boston and we know it is the right thing to do for our city," Leyba said. "I'm feeling confident and I know the people are ready for Tito Jackson."
Daniel Kontoff, the founder of Boston Food for Activists, a group dedicated to giving away free food to at local rallies, said the organization has endorsed Jackson, as he fits the bill as a logical candidate who can provide for the city.
"The new mayor needs to be someone who can send a message to the people on intellectualism, someone who's smart and looks at the picture of what's going on in our country and our city — that's Tito Jackson," Kontoff said. "Government should be for us the majority, not the minority — not the one percent but the 99 percent. Marty works for the one percent and that's his problem."
Kontoff said the timing of Warren's endorsement is odd.
"It's weird that Elizabeth Warren supported Walsh three weeks in advance of the election," Kontoff said. "Is Marty in trouble in the polls? Hopefully he is because we need to get a man who supports the people. The corporate leaders have become Marty's friends. There's a big difference between the two of them."
Boston residents agree endorsements can help a candidate secure a victory on Election Day but are not always vital.
Melanie Klein, 63, of Allston, said endorsements allow candidates to build a rapport with the public.
"Endorsements are very important as they increase name recognition," Klein said. "Endorsements can help a candidate make a name for him or herself as they attempt to build a connection with the community."
Dianna Lister, 44, of Brighton, said she believes Kazol's endorsement helps Jackson greatly.
"Winning endorsements definitely helps establish credibility with the people in the city or town," Lister said. "It's never a bad thing to have a couple up your sleeve."
Greg Dorsey, 44, of Allston, said public endorsements for Jackson may help him win the popular vote.
"There hasn't been a black mayor in the city of Boston for quite some time," Dorsey said. "In today's political climate, Jackson may add a much-needed element of black culture to the city."