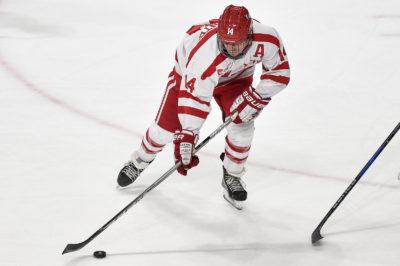 The No. 6 Boston University men's hockey team got back on track last weekend with a tie and a win the following night over the University of Connecticut after suffering a home sweep to Minnesota State University a week prior.
The Terriers (3-2-1, 1-0-1 Hockey East) will look to carry this momentum into what could be their most challenging weekend of the season, as they host No. 1 University of Denver, the reigning 2017 NCAA champions, before heading to Rhode Island for a Hockey East tilt against No. 11 Providence College.
The Terriers offense came alive against the Huskies (2-3-1, 1-2-1 Hockey East), a trend that will need to continue should the squad overcome the Pioneers (2-0-2), who are coming off of a 5-1 shellacking of Lake Superior State University on Saturday.
"You make tweaks with everyone you face because every team plays a little bit differently," BU head coach David Quinn said. "This isn't a game that you have to get the team excited to play. They are the defending national champions [and] returned a lot of their guys from last year. They are a heck of a hockey team. It will be nice to have them in our rink."
After struggling to put the puck in the net over the first few weeks of the season, junior forward Bobo Carpenter exploded this past weekend. After scoring two shorthanded goals in a 2-2 tie against UConn on Friday night, Carpenter put up a hat-trick in a 6-3 beating of the Huskies an evening later.
Just a minute into the game on Saturday, Carpenter was on the board with a power play tally off of assists from sophomore forward Patrick Harper and junior forward Jordan Greenway. After the Huskies sliced a 3-0 deficit down to just one goal, Carpenter provided much-needed insurance with his second power play goal of the game 14:32 into the second period.
For good measure, he added another power-play goal with just over five minutes remaining in the game to hand the Terriers a three-goal lead that they would not relinquish.
"I thought we competed and it paid off offensively," Quinn said. "Our O-zone was much better. You're hoping that when one [goal] goes in you get another and it gets contagious. Sort of what happened with [Carpenter]."
The offensive prowess displayed in the second game of the UConn series in exactly what BU needs to match against a high-scoring Denver team. The Pioneers have recorded multiple goals in each of their four games, with three players combining for 15 of the team's points so far this season.
"They keep it simple and fast," Carpenter said. "They really want to attack hard and get that offense going. Their transition has been the key to their success. We want to be that team too. It's going to be exciting to see how it turns out."
Junior forward Troy Terry has recorded three goals and two assists this year, including a two-goal performance against Lake Superior State (1-3-2). Sophomore forward Henrik Borgstrom has three goals and two dimes as well while junior forward Dylan Gambrell has two goals and three assists.
Each of these three players will likely find themselves competing at the NHL level once their collegiate careers expire.
Borgstrom was selected No. 23 in the 2016 NHL Entry Draft by the Florida Panthers while Terry and Gambrell will find themselves heading to California to kick off their NHL careers, selected by the Anaheim Ducks and San Jose Sharks, respectively.
"We have to improve our D-zone coverage," Quinn said. "We can't be giving up 20 scoring chances a game. Our penalty kill has to get better."
After the Terriers finish up with the Pioneers, the road does not get any easier with Providence (3-2, 0-1 Hockey East) ahead of them on Saturday.
The Friars have faced a very tough schedule over their first few games, taking losses to No. 19 Boston College and No. 9 Clarkson University. However, Providence has looked impressive against the non-ranked teams that it has faced.
In a two-game series against Miami University to begin the year, Providence swept the RedHawks (1-3) by a combined score of 6-3. Against St. Lawrence University last Friday night, the Friars allowed five goals, but managed to score six, topping their opponent in a road overtime win.
Saturday's contest will mark just the third time that Providence has played on home ice, the second being a matchup against BC (1-3-1, 1-0 Hockey East) this Friday. The Friars goaltending on the road has been shaky, something that BU could capitalize on.
Junior goaltender Hayden Hawkey was picked apart for four goals in 44 minutes by Clarkson last Saturday. This performance came one night after he let up five goals to St. Lawrence (0-6).
"There's a balancing act with your emotions when you have to make sure you are excited, but you don't play reckless," Quinn said. "You have to play within yourself and keep doing the right thing over and over again. We are focused on improving and getting better and better."