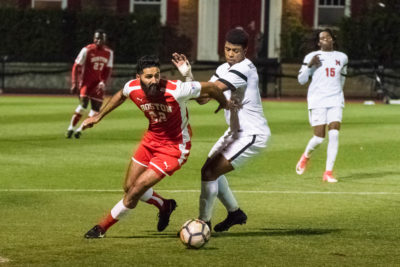 The Boston University men's soccer team will take on another Patriot League opponent Bucknell University on Saturday after having won its midweek matchup to the United States Military Academy 3-1.
This matchup with the Bison (6-7-3, 4-3 Patriot League) will mark the Terriers' (7-7-2, 6-1 Patriot League) the penultimate game of the regular season before the Patriot League tournament begins on Nov. 7. It will be the first time they've seen Bucknell since last season's conference tournament where they fell in a shootout.
After BU's win against Army (8-6-1, 2-4-1 Patriot League), where freshman forward Austin D'Anna notched two goals with freshman midfielder Toti Knutsson helping on both of those, the Terriers have officially clinched a spot in the conference tournament and are tied for first with Loyola University Maryland.
"With everything these guys have gone through since August, to be sitting where they're sitting right now is probably more than impressive," said BU head coach Neil Roberts. "So it just shows that mentally they're tough, they're willing to adjust. We've had to adjust pretty much every game with personnel and tactics and everything and they've done well with it so they've grown from August 29th to where they are right now."
While the Terriers had a successful night, Bucknell won its first game on the road against Lehigh University after freshman midfielder Matt Thorsheim scored twice within a nine-minute span early into the game.
The Bison were also able to pull out the win after having to employ their emergency sophomore goalkeeper Emmett Witmer who made nine saves.
Overall, Bucknell's season has been marked with it being unable to amass a win-streak of more than two. Although on the flip side of things, the Bisons' losses and ties in row have not been greater than two.
In Bucknell's last six games it has gone 2-3-1, with each of the games' scores decided by a one-goal difference.
Thorsheim leads the team with 14 points while sophomore midfielder Nick King follows closely behind with 10 points. Sophomore back Bernie Wright and senior forward Ben Derleth have proven themselves as offensive threats with seven points apiece.
"It will be difficult, but he's a good player that capitalizes on mistakes," Roberts said. "If you watch their last two games, they've scored and it's all been off of mishaps from the other team so if we can limit our mistakes, which we've been pretty good at. We made a couple last night, but we survived it so that will be the key."
However, recently BU's defense averages 1.25 goals allowed per game and has been essential to in the Terriers' past few games.
"Collectively the defense has done extremely well," Roberts said. "I mean it's not just the back four, but the midfielders in front of him, Satchel [Cortet] and Peter [Kargbo] and everybody in front of them from our forwards to our goalkeeper [are] defending collectively very well."
It is unclear if the Bisons' junior goalkeeper Ryan Ott will be in net as Witmer took his place in net against Lehigh (10-5-1, 4-2-1 Patriot League) due to Ott being injured.
Ott currently posts a .806 goal save percentage and 0.97 goals against average.
Although, Knutsson leads the team in points with 11, consisting of three goals and five assists, sophomore forward Matt McDonnell leads the team in shots with 27 and has four goals this season.
McDonnell along with the other players of the team will be imperative to breaking through Bucknell's defense.
However, on Wednesday night, Army allowed the most goals it had all season against BU and Roberts said he is hoping for the same kind of offensive output against the Bison.
"We're happy with where our attack is, but every game is different," Roberts said. "You don't know where the goals are going to come from, you don't know where the opportunities are going to be. Bucknell is a very stingy team at home, as we know, and we'll have to be patient and take advantage, and hopefully we'll be able to take advantage of the opportunities we have."