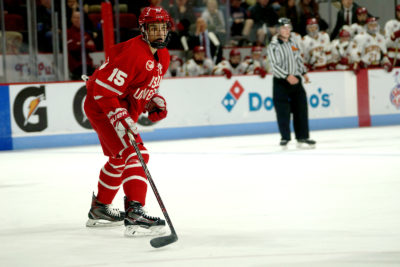 Following its 4-3 loss to the No. 1 University of Denver in the final 16 seconds of the game on Friday night, the No. 6 Boston University men's hockey team traveled to Providence, Rhode Island to play another Hockey East competitor — Providence College.
While playing the top-team in the nation proved difficult, the Friars (5-2, 2-1 Hockey East) provided no less of a challenge for the Terriers (3-4-1, 1-1-1 Hockey East) on Saturday night and Providence came out with a 3-0 win.
BU head coach David Quinn said he wasn't sure exactly what happened to his team's response after battling Denver (4-0-2) hard.
"Well just a poor performance by us in many, many areas," Quinn said. "I was sitting on the bench and trying to figure out what we need to do better and the answer's everything."
In the first period, the Terriers came out strong against the Friars' fast and physical play, but were unable to get through its strong wall of defense.
At 12:50, freshman forward Shane Bowers had a solid chance in front of the net and had Providence junior goaltender Hayden Hawkey lunging out of the net to save the shot.
"I know we had some chances in the first period, [but] we were still sloppy with the puck," Quinn said. "Certainly we didn't play well with the pace and energy we played with in the last two games."
The Friars outshot BU 15-9, but were unable to get any pucks past sophomore goaltender Jake Oettinger.
However, the second period proved much different as the Friars got on the board three times.
Early into second frame, Providence forward Bryan Lemos passed the puck behind the net to fellow forward Vimal Sukumaran who backhanded into the open spot between Oettinger and the post.
The Terriers were unable to capitalize on either of their two power play opportunities of the period as the Friars' defense put strong pressure during BU's first chance, and senior defenseman and captain Brandon Hickey got sent to the penalty box 34 seconds into Providence's second penalty.
Junior forward Bobo Carpenter got a penalty for slashing shortly after to give Providence a 5-on-3 chance, which it capitalized on as forward Erik Foley wristed a shot into the top shelf of the goal at 11:18.
Less than a minute later, Oettinger was able to block a shot from forward Scott Conway, but Brandon Duhaime capitalized on the rebound and was able to slip the puck past the goaltender to put the Friars up 3-0.
"To give up a goal to start the onslaught was just a microcosm of where the problems were and just really disappointing," Quinn said. "[Providence] played well, they came out with a lot of energy."
Providence was able to maintain this lead throughout the final period and with the exception of some bursts, the Terriers' play deteriorated.
The Friars also kept an edge in shots with 31-22 over the Terriers throughout the contest and kept BU 0-5 on its power play.
Quinn voiced that he wasn't sure if his young team had shaken off the previous night's loss and that it had impaired their game.
"Last night was such a heartbreaker [at] home," Quinn said. "It was really a devastating loss for us. It was a concern of mine coming into it. We're so young and mentally fragile that we feel sorry our selves in a hurry and we got to get over that. Providence didn't care who we lost to last night with 60 seconds to go."
While Quinn remained dismayed in his team's performance tonight, he said he is hopeful for the next week of practice before the Terriers face Providence once again at home.
"We've just got to move past this and we can't let this get in the way of next weekend," Quinn said.