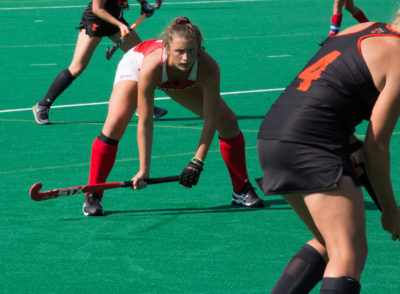 The Patriot League No. 1 seeded Boston University field hockey team will host the conference semifinal against No. 4 the College of the Holy Cross at noon on Friday.
The two teams met earlier this season on Oct. 13 at Holy Cross (7-10, 3-3 Patriot League) where the Terriers (11-7, 6-0 Patriot League) triumphed in an 8-1 victory in arguably their best performance of the 2017 campaign.
Junior Ally Hammel and freshman Miya Denison netted two goals apiece. Seniors Grace Boston, Kali Shumock, junior Kara Enoch and freshman Ailsa Connolly also found the back of the cage in the rout.
The Terriers are coming off a 1-0 win against conference opponent Bucknell University last Saturday which clinched them the regular season title, their third in a row.
"We need to maintain possession better and really take care of the ball," BU head coach Sally Starr said. "We've had way too many forced turnovers in recent games. When we play well we take care of the ball."
Junior Maika Akroyd scored the lone goal for the Terriers in the Bucknell (9-9, Patriot League 3-3) victory. She recently switched positions from back to forward which has allowed her to be an asset to both the Terrier offense and defense, especially on the penalty corner unit.
The Crusaders are coming off of a 4-1 win against conference opponent Lafayette College.
"I'm really pleased with how practice has been this week," Starr said. "It's great not to have to travel, we can be in our locker room and our own beds."
Tuesday, the head coaches of each Patriot League field hockey team voted on end of the season awards. They are not allowed to vote for themselves or members of their team.
They selected Starr as Coach of the Year for the third year in a row. Hammel was named the Patriot League Defensive Player of the Year. Hammel, who was also selected as the Preseason Defensive Player of the Year in August, scored five goals and one assist this season.
Boston University and American University were selected for four of five Patriot League postseason awards. American junior midfielder Rafaela Rubas was named Patriot League Offensive Player of the Year and her freshman teammate, forward Noor Coenen was selected as Rookie of the Year.
Hammel, Rubas and Coenen were selected to the first team All-League. Terrier junior midfielder Allie Doggett and senior midfielder Kali Shumock were also first team All-League selections, alongside Holy Cross senior forward Maureen Connolly and junior midfielder/defender Emily Loprete.  
"It's always an honor because there are some really good quality hockey players in the Patriot League," Starr said. "They're voted for by opposing coaches and we had three unanimous first teamers which is outstanding."
Connolly leads the Crusaders in scoring with 47 points, 19 goals and nine assists. Emily Loprete is second in scoring for Holy Cross with nine goals and four assists.
BU freshman Ailsa Connolly leads the Terriers with 10 goals while senior Grace Boston follows behind her with seven goals and two assists.
Terrier goalkeepers, freshman Millie Baker and junior Kathleen Keegan have continued to split time in net throughout the season combining for 58 total saves. In recent play, Baker has started the game while Keegan plays the second half.
No. 3 Bucknell will face No. 2 American University on Friday also in the semifinals. The winners of the two semifinal games will head to the championship game Sunday Nov. 5 at noon hosted at BU's New Balance Field.
Starr said that her team make sure that their fundamentals are intact for these games.
"Really suring up our fundamentals is key," Starr said.