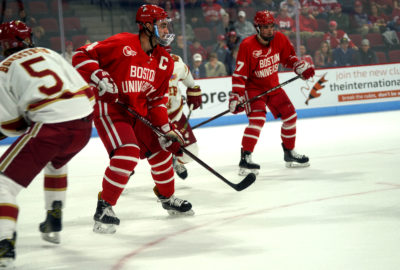 Two weekend's ago, the No. 12 Boston University men's hockey team picked up three Hockey East conference points against the University of Connecticut. The following weekend, the Terriers (3-4-1, 1-1-1 Hockey East) traveled to play No. 6 Providence College and came home with nothing.
BU will face two tough conference opponents — Providence (5-2, 2-1 Hockey East) for the second game of its home-and-home series and No. 15 Northeastern University — and the Terriers enter the weekend with hopes of securing four points on their home ice.
BU head coach David Quinn said his young team needs to learn how to be mentally tougher and put its tough losses behind.
"Bad things are going to happen in a hockey game to every team no matter how well you play," Quinn said. "You're going to have bad moments and bad stretches, and you've got to manage it and minimize it and be mentally tough enough to move past it and we're still learning how to do that."
Over the past weekend, the Terriers stood tall and competed well against the No. 1 University of Denver, but were dealt a tough blow as forward Troy Terry scored the game-winning goal for the Pioneers (4-0-2) with just 17 seconds remaining in regulation time.
The following day, BU carried the feeling of the loss with them and struggled to generate offense against the Friars' defense despite having five power play opportunities, resulting in a 3-0 loss at Schneider Arena.
However, the Terriers will face Providence again and know what they need to focus on.
Quinn said working on puck support and execution of passes was made a bigger priority this week.
"We've just got to manage the puck better," Quinn said. "We've got to support it better. We've got to be more purposeful when we're out there so we'll see."
While Providence scored three times in the second period of the contest, its leading goal-scorer forward Kasper Björkqvist only collected an assist but will remain a threat on Friday.
Senior forward and assistant captain Nikolas Olsson said the loss to the Friars over the weekend was "big motivation" for this Friday's matchup.
"These guys have become a conference rival with us so we need to come back and we can't drop two straight with these guys," Olsson said. "Obviously for the Hockey East standings it means a lot and we need to respond and work hard."
BU's defense will face its fair share of offensively talented players this weekend as it plays Northeastern (4-2-1, 2-0 Hockey East) on Saturday.
Although the Huskies' former leading scorer of the 2016-17 season, forward Zach Aston-Reese, graduated, Northeastern senior forward Dylan Sikura and junior forward Adam Gaudette return in his place.
Sikura and Gaudette notched 57 and 52 points, respectively, last season and appear to be on their way to replicating that success early in the current season.
Sikura leads the Huskies with 14 points, which is also good for No. 2 in the nation, and Gaudette follows closely behind with 13 points after grabbing a hat-trick and a short-handed goal in Northeastern's sweep of the University of Massachusetts Lowell over the weekend.
"You've just got to take away time and space and be physical with [Sikura]," Quinn said. "You have to have a good stick. You can't be fishing for the puck."
The Huskies' offense has averaged 4.4 goals per game and in comparison, the Terriers have averaged 2.6 goals per game.
Over the weekend, freshman forward Ty Amonte registered his first collegiate goal to put BU on the board against Denver. Junior forward Bobo Carpenter and sophomore defenseman Dante Fabbro followed up shortly after that.
Carpenter currently leads the team in points with nine and sophomore forward Patrick Harper remains right behind him with eight.
Olsson said the team worked on changing the angle of their shots this week in order to get through teams with strong defenses.
"We just need to not be denied at the net front, can't let them get in front of shots so we worked on catching and releasing quickly before they can get out in front of it," Olsson said.
Despite the challenges the Terriers will face this weekend, the biggest one will be whether or not they can bounce back from adversity. After being swept by the Minnesota State University, BU bounced back and split the following weekend series against UConn (2-5-1, 1-2-1 Hockey East).
Quinn appeared to remain confident in his team after a strong week of practice.
"If we can match our game efforts with our performances in practice, we'll be in pretty good shape," Quinn said.