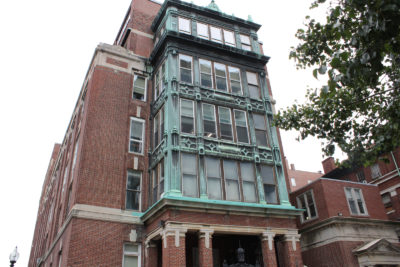 A little over a month after scientists announced they may have discovered a way to diagnose chronic traumatic encephalopathy, or CTE, in living people — not just postmortem — athletes and veterans are continuing to pledge their brains to CTE studies. The most recent contributor is former NFL player Nick Buoniconti, who announced his plans to donate his brain to Boston University's CTE Center Friday afternoon.
In addition to BU's CTE Center, Buoniconti, 76, has also pledged his brain to the Concussion Legacy Foundation and VA-BU-CLF Brain Bank, according to a press release from BU's School of Medicine. The former linebacker, who previously played for the New England Patriots and Miami Dolphins, was diagnosed with dementia shortly after his retirement from the NFL in the late 1990s. Doctors suspected that the CTE symptoms affected his disease, according to the press release.
"My life, as I know it, has been taken away from me," Buoniconti said in the press release. "I don't believe there are any miracles with this disease, but I am so proud to be with VA Secretary Shulkin, Dr. McKee and the BU CTE Center and Concussion Legacy Foundation team today, who are so dedicated to fighting the ravages of concussions and thousands of head impacts. I hope that my story and contribution will help thousands of others who are in this journey, or who will follow me."
The BU CTE Center, led by director Ann McKee, has received over 460 brain donations and diagnosed 285 CTE cases, a number that makes up for over 70 percent of confirmed CTE cases worldwide, according to the press release. The CTE Center declined to comment on the recent donation Friday.
The Concussion Legacy Foundation, which will also receive Buoniconti's brain, is a Boston nonprofit research organization that studies brain trauma in athletes and other groups at risk of head injuries. Since 2008, the partner organization of BU's CTE Center has received more than 2,300 pledges from former athletes and military veterans, which includes over 1,000 pledges made in 2017.
"The study of postmortem human brain is the fastest way to advance our understanding of CTE," said McKee, who's also the chief of neuropathology at VA Boston Healthcare System, in the press release. "Brain donation provides unique insights into disease that accelerate our development of biomarkers to detect CTE during life, and will lead to effective strategies to treat CTE."  
BU spokesperson Colin Riley commented on the importance of the donation and the impact it would have on BU's CTE research moving forward.
"[The donation] reflects the seriousness and importance of Dr. McKee's research that a former NFL player of the caliber of Nick Buoniconti would make the decision to donate … for the benefit of the research and to make a difference," Riley said.