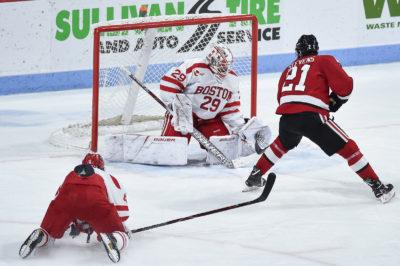 For the No. 12 Boston University men's hockey team, watching the first goal of the game sail into its own net has not become an unusual sight. Over the Terriers' (4-5-1, 2-2-1 Hockey East) first nine games of the 2017-18 season, they have let their opponent open the scoring five times.
While BU got the first tally of the game in its shutout win against No. 6 Providence College on Friday night, it was unable to do the same against No. 15 Northeastern University on Saturday night.
Coming into the game, the Terriers had a 1-1-1 record for contests they have scored first in while going 2-3 when their opponents found the back of the net first.
The odds were not in BU's favor against the Huskies (5-2-1, 3-0 Hockey East), but the Terriers poor defense allowed Northeastern to score twice in the opening frame of the game and carry the momentum for a 4-1 win.
BU head coach David Quinn said his team needs to realize how important team and transition defense is especially against teams like Northeastern.
"Our inability to decide when to play defense and play offense is really a problem for us," Quinn said. "I know we only got one goal tonight, but our number one problem tonight was defending or lack there of."
This course of events appeared to almost replicate last season's two Hockey East quarterfinal games at Agganis Arena where the Huskies collected two goals in the first period and the Terriers responded with three of their own.
However, this time around, BU's offense was unable to storm back for a pair of wins despite outshooting Northeastern in the second and third period, and its defense was unable to mitigate the goals.
"The difference was when we were in their end, it wasn't like when they were in our end," Quinn said. "Both their goals in the second, we got a guy near them. That's not covering them. You can't be near somebody, you've got to actually cover them, you got to get under their stick and cover them and we just didn't do it."
Freshman forward Bobby Hampton and senior forward and captain Nolan Stevens provided the Huskies with the first two goals of the game.
Hampton found the back of the net at 11:44 for the Huskies 11 seconds after the Terriers successfully killed off their first penalty of the night.
As the first frame wound down to a close, Stevens scored a buzzer-beater on a breakaway past sophomore goaltender Jake Oettinger.
"We were going to get fortunate to get out of the there 1-0 because of our lack of awareness around the net, how soft we've become and to have a potential three-on-two turn into a clean breakaway is just a microcosm of where we're at right now or where we were at tonight," Quinn said.
Junior forward and assistant captain Jordan Greenway buried BU's lone goal of the game just 2:09 into the second period to cut Northeastern's lead in half.
Stevens went on to score twice in the same period to ensure that Northeastern left with a win, but the Terriers performance continued to diminish as the game went on and were unable to get any of their shots into the goal.
Overall, Quinn remained dismayed with his team's defensive performance and said his team needs to keep their game simple.
"There were some positive signs last night, but right now we're a 4-5-1 hockey team because that's what we are," Quinn said. "As Bill Parcel says, 'You are what you are' and we're a 4-5-1 hockey team because that's what we are."