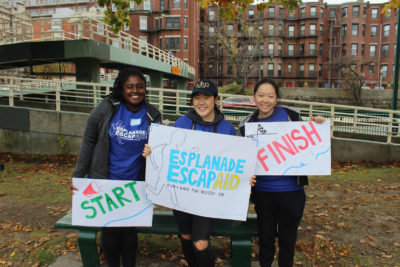 Alpha Phi Omega — Boston University's co-ed community service fraternity — held a run Sunday morning to support hurricane relief efforts on the Charles River Esplanade.
More than 40 runners and walkers gathered near the Silber Way Footbridge for APO's first ever fundraising event, raising around $1,400 in total. BU students paid $20 to participate, while non BU-students were required to pay $25.
Jeanine Duchaney, the president of the Zeta Upsilon chapter of APO, said the fundraiser was initially set up to support Hurricane Harvey relief efforts, but went on to include more recent natural disasters as well, such as the hurricanes in Puerto Rico.
"We chose GlobalGiving, so when the time came to donate the money we would have the flexibility to give where we thought would be most needed and be able to do the research and get the advice on that, rather than being tied to a small local organization," Duchaney, a senior in the Questrom School of Business, said before the run.
Proceeds from the run will go toward GlobalGiving, a crowdfunding organization that partners with  nonprofits all over the world, according to the group's official website.
APO member Minnie Bi, who helped organize the run, said the fraternity asked other clubs for help since they had never done anything like this before.
"Planning was really tedious because we really did not have a blueprint to follow," said Bi, a Sargent College of Health and Rehabilitation Sciences sophomore. "We really started from the ground up and we asked BU Running Club on how we should create a run that was easy to walk and easy to run for runners who are interested."
Kimberly Graham, historian on APO's Executive Board, said that the fraternity has hosted fundraisers for smaller organizations in the past, but this is its first time hosting a run on its own.
"The goal of this is to donate as much to the cause as well as just getting [APO's] name recognition around campus so more people know about us and have a greater community of people doing community service," Graham said.
Several people who ran or walked during the fundraiser said they believed in the fundraiser's cause in supporting communities affected by these disasters.
Lindsay Kerr, APO's public relations chair, said events like these support people and help raise awareness.
"I feel like places in Texas and Puerto Rico are kind of far away and people don't think about them until after the news drops the stories," said Kerr, a junior in the College of Communication. "It is important that we continue support—our support towards them—so having this event raises awareness that there are still problems going on."
Jordan Thomas, a College of Engineering sophomore and member of BU's Running Club, said he participated to bring attention to these efforts.
"They are important to me because without groups like this there wouldn't be as fast of a response or as big of a response and every little effort counts," Thomas said. "If there is a bunch of little efforts they come together to make one big effort, it helps a lot."
David Leung, an APO alumnus from the Massachusetts Institute of Technology chapter, said he decided to run after meeting members from BU's APO at a fundraising gala who told him about it.
"Especially in this day and age and the current administration, we just have to step up and help each other more," said Leung, 46, of Somerville..
As a former brother of APO, Leung said he hopes to continue to give back to the community and support his former fraternity.
"I can totally do that minimal effort and the selfish thing of helping my own training," he said. "It's this cross-generational brotherhood, and that is my emotional connection."