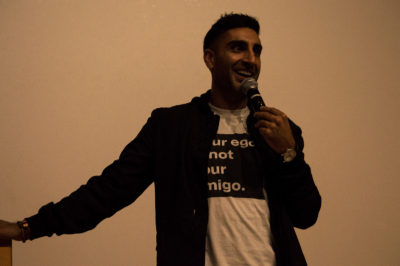 Cracking jokes left and right, comedian Gibran Saleem was in his natural element Friday night at Boston University's Photonics Center as he performed stand-up for the Organization of Pakistani Students' first-ever comedy night.
Involving the audience in many of his segments, Saleem has continued to impress students ever since opening for comedian Hasan Minhaj when he performed for BU's Weeks of Welcome in September.
Nayab Khan, a sophomore at Wellesley College, said that being of Pakistani descent helped her relate to the performance.
"Some of it was interesting because I'm Pakistani as well so we had that common background but then you remember that not everyone has the same experiences" she said. "This was also my first stand-up comedy event. It was better than what I expected it to be."
Zainab Jafiq, also a sophomore at Wellesley College, said that she felt the same way even though she isn't Pakistani.
"I'm not Pakistani, but I did find some of it relatable as a brown person in general," Jafiq said. "The parts that weren't cultural I thought were very entertaining and awesome."
Saleem, a Pakistani-American comedian born in North Carolina, said he didn't get started in comedy until arriving at New York University, where he was studying psychology as a graduate student. While at NYU, Saleem was chosen as an MVP for the TBS Rooftop Comedy College Competition and was a two-time recipient of the Upright Citizens Brigade diversity scholarship.
"I went to New York and I was just doing straight psychology and I love psychology, still love psychology," Saleem said to the audience. "I think it's amazing, and I'm very interested in it but I didn't have a creative outlet."
He added that he discovered that creative outlet in comedy.
"I had loved comedy, was always a comedy nerd and I accidently walked into an open mic," he said to the audience.
At the time, Saleem said he was living in NYU graduate housing not far from the club, and would often "just go to random shows."
"I was like 'Oh wait. These are just people trying out comedy,'" he said to the audience. "I didn't even know you could do it because it was so ingrained in my head that in all these creative fields that you don't do it, you just watch it."
Saleem added that he began by writing one-liners. Then, six months later, he performed on stage for the first time.
"I just kept doing it and after a while I was like, 'This is what I want, this is what I want to do, this is what makes sense,'" he said to the audience. "It was a good transition but it wasn't expected — I kind of evolved into it."
OPS has hosted numerous events at BU since the group's creation in 2002.
Anam Amirali, a senior in the College of Arts and Sciences and the vice president of the organization, wrote in an email that OPS was founded in order to "educate our peers about Pakistan and the Pakistani-American experience and establish ourselves in the multicultural landscape of BU and Greater Boston."
"OPS is a cultural student organization and we host a variety of events that demonstrates the diversity of our heritage and nation," Amirali wrote.
The group held a Pakistani culture night last semester, and this semester has already held a banquet to commemorate the Islamic religious event Eid-ul-Adha in addition to the comedy night.
Alina Shaikh, secretary of the OPS and a junior in the Questrom School of Business, said that Saleem received "a lot of praise" when opened for Minhaj in September.
"People really loved him, and we're in contact with him so we thought it would be a great opportunity for him to come again … as our main showstopper," Shaikh said.
Ramsha Asim, public relations co-chair for OPS and a sophomore in BU's Sargent Health and Rehabilitation College, added that she thought Saleem was "hilarious" at the Weeks of Welcome performance.
Saleem ended the night by telling the audience to thank themselves.
"I don't know what you guys are pursuing — I'm sure some are pre-med, some are other things — whatever it is that you're doing, you're smart people, you're great people, you got a great sense of humor," he said to the audience. "You're here tonight and you're laughing and we had a good time, I had a good time. Whatever you're doing, keep doing it."