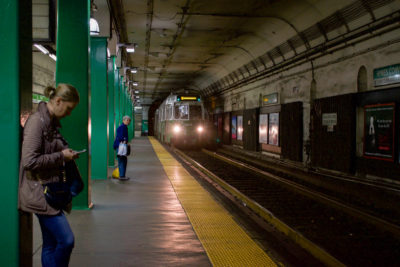 The Massachusetts Bay Transportation Authority announced Wednesday they have invested over $101 million in resiliency to withstand severe weather.
Since the winter of 2015, when record amounts of snowfall prompted numerous railway shutdowns, the MBTA has invested in upgrades such as improvements in infrastructure, snow removal equipment and an increased supply of spare parts for vehicles, according to the press release from the MBTA.
There were no shutdowns in services last winter with snow removal equipment deployed and increased personnel working as needed, according to the release.
Lisa Battiston, the deputy press secretary for the MBTA, wrote in the winter resiliency efforts include upgrades and maintenance to vehicles and infrastructure.
"During winter events, MBTA…staff make use of Snow Plans that include operating 'snow trains' along tracks to keep tracks clear of snow and ice, operating switch heaters, dispatching staff to clear snow from MBTA property and activating the Storm Desk in the Operations Control Center during weather events to direct resources where and when they're needed immediately," Battiston wrote.
The Boston Transportation Department wrote in a statement that safe, reliable, equitable and accessible public transportation for the city's residents, daily commuters and visitors is a priority for them.
"Restructured bus routes and improved reliability of bus service, additional rapid bus routes, the creation of transit hubs at locations around the City and improvements to subway and rail service, are examples of public transportation related goals of Go Boston 2030," the BTD said in the statement. "The [BTD] works closely with our partners at the MBTA to foster quality transit service in the city."
Peter Furth, a professor of civil and environmental engineering at Northeastern University, said snow and ice affects services provided by the MBTA in a few different ways.
"The switches freeze when tracks meet, and trains can't get through," Furth said. "If the snow is very dry and piled high, snowflakes will be sucked in[to the vehicles] because the engines have to bring air. The snowflakes will melt [and] that means now there's water and when there's water on your electrical equipment, that can cause short circuits [which] burn out the motors."
Reflecting on Boston's record-breaking snowstorm in 2015, Furth said a lot of problems were due to the snow getting sucked into motors and burning them out.
"The MBTA has a certain number of replacement motors available," Furth said. "They burned out so many more and they couldn't rebuild their motors back, so they were just running out of trains."
Several Boston residents said they had mixed feelings about MBTA services during the winter.
Tim Corrigan, 38, of the South End, said he thinks it is important to keep improving transportation services and that currently, winter services are okay compared to other areas of the country.
"It's important to set goals that better our lives throughout the area, but I think it's also important to sort of put things in context because I lived in many different cities and visited many different cities, and the MBTA is far from perfect but it's also quite good," Corrigan said.
Holly Vanhest, 63, of Brighton, said other improvements need to be made concerning transportation services throughout the winter.
"[I'm a] senior with a cane," Vanhest said. "In Brighton, they don't shovel the sidewalks. As a senior you have to stand in the middle of the street and maybe the bus will see you and stop."
Shaun Bossio, 39, of Brighton, said he hasn't seen much of a difference in services despite the recent investments.
"The buses seem like they're in better shape," Bossio said. "The service hasn't really changed all that much to be honest, especially on the weekends — it tends to be lagging."