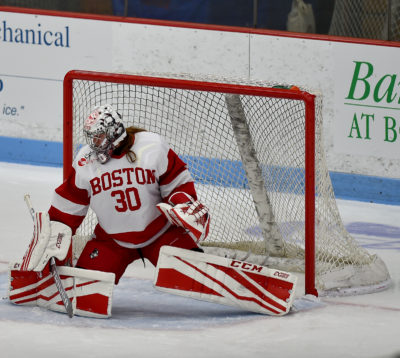 The Boston University women's ice hockey team split their weekend series against the Rochester Institute of Technology in the two teams' first meeting. On Friday night, the Terriers (2-6-1, 1-5-1 Hockey East) scooped up a solid 5-1 win. However, the next day required an overtime decider for the game to eventually go 2-1 in favor of RIT (4-5-1).
The series opener at the Walter Brown Arena had an electrifying start on Friday night.
Junior defenseman Reagan Rust was the first to break the ice after a feed from freshman forward Nara Elia 2:32 into the first period.
The goal had a special significance to Rust, who became a Terrier after transferring from RIT this season.
"Ever since I transferred, I knew we'd be playing them in November. It felt good to finally get it out of the way," Rust said. "[The BU team] has such great chemistry, I love playing here."
That chemistry may have contributed to the Terriers' impressive offensive showing.
Rust's goal was the first of three from the BU squad during the first period, followed closely by senior forwards Victoria Bach's at 3:57 and Nina Rodgers' at 5:46.
Bach, BU's current points leader with 13, collected two assists after her goal.
Twenty seconds into the second period on a power play, sophomore defenseman Abby Cook put up her first goal of the season from Bach and senior forward Rebecca Leslie, pushing Cook's point streak to four games.
Leslie, who is linemates with Bach and leads the team in goals, also notched a goal and two assists, making Friday night her third game of at least three points. The Terriers also played a strong defensive game to limit RIT to only a single goal.
"The fast start is always great, we were off and running with those three goals," said BU head coach Brian Durocher. "What I really liked in the second period was that we really shut the door with an unbelievably thorough period. We accelerated the whole way through."
The Tigers' lone goal came from one of only four shots on net in the second period, RIT defenseman Brinna Dochniak's first point of the season.
Rust also assisted Leslie in final goals of the season at 15:44 in the third, leaving the final score a 5-1 victory for BU.
Playing between the pipes was strong on both ends of the ice as the Tigers' freshman Jessi O'Leary faced a total of 40 shots through the night.
The Terriers' freshman goaltender Corinne Schroeder earned her second collegiate win in three starts after making 19 saves.
Despite Friday's win and a 7-1-1 record while playing in Agganis Arena, Durocher emphasized the importance of respect to keep up momentum.
"You always have to respect your opponent, and tomorrow is going to be another test," Durocher said. "We have to make sure we're doing what we have to, taking care of the technical stuff. We're good enough to win if we do."
During Saturday's afternoon game both teams held each other scoreless through the first period, which is an opportunity Durocher felt BU could have taken better advantage of.
"We wasted 30 minutes," Durocher said of the sluggish start. "When you have a goalie that comes to play like [RIT sophomore goaltender Terra Lanteigne], it makes it hard to come back in the second 30 minutes."
While BU picked up its attack going into the second, it was RIT forward Claudia Black who got the Tigers on the board at 8:10 into the second period.
BU answered not long after with junior forward Mary Grace Kelley finding the back of the net for the third time this season at 13:09.
The contest proved to be another battle of wills between goaltenders as Lanteigne rejected a staggering 50 out of 51 shots during regular play and forced overtime.
After a slashing penalty 0:24 into overtime, Tigers forward Mallory Rushton made good on her penalty shot, leaving the final score 2-1.
Despite this being Schroeder's first loss in net, she has yet to allow more than two goals and has a save percentage of .940 for the season.
The Terriers hope to bring some of this weekend's energy to Friday's match against conference rival the University of Connecticut.
"[Schroeder] played very well today, made some big saves," Durocher said. "Like I said, we wasted thirty minutes. We need to have that second wave of pressure. We had some people miss some pretty good opportunities. It all adds up."