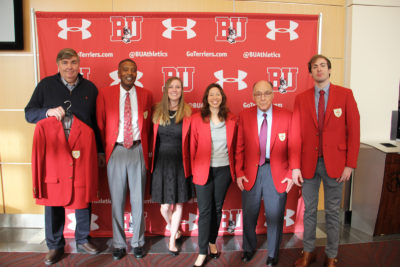 The list of members in the Boston University Athletic Hall of Fame just got a little longer as BU awarded six Terriers the high honor, adding them officially to the Hall of Fame Saturday afternoon.
For the first time — someone was honored strictly for their coaching success. Former BU cross country coach Bruce Lehane passed away in September after a battle with ALS, and was inducted into the Hall of Fame on Saturday. During his time coaching at BU, he coached 50 All-Americans, two NCAA Division 1 National Champions and two Olympians.
Along with Lehane, former Terriers Bob Danville '82, Dick Fecteau '51, Matt Gilroy '09, Robyn Kenney '01 and April Setterlund '11 were inducted for their achievements in track and field, athletics administration, hockey, field hockey and softball respectively.
Joining in on the festivities were Terriers that have been inducted previously, including Don MacLeod, a former hockey and baseball player at BU. MacLeod said he recalled getting the call about being inducted into the Hall of Fame for baseball in 1973, remembering that he was "absolutely joyous."
"It's great for the families, it's great for sports, it's great for education," MacLeod said. "It's international, there are people here from all over the world. It's a celebration."
The inductees were not the only people being honored at the ceremony. Six other Terriers were given awards for their accomplishments and support of BU Athletics. Men's lacrosse sophomore attack Ryan Hilburn won the Irv Heller Hall of Fame Scholarship, which is awarded to the student-athlete who demonstrates good sportsmanship and citizenship.
Track and field coach Robyne Johnson received the William French Memorial Award for her commendable coaching this past year.
Dave Walko was honored with the Roger "Moose" Washburn Memorial Award for his complete support to BU's athletic program.
The Murray Kramer Memorial Award was given to Brian Maurer because of his coverage of intercollegiate sports. For their leadership on and off the field, Charlotte Castronovo and Jake De Vries — who both graduated last May — were given the Aldo "Buff" Donelli Memorial Leadership Award.
Brian Kelley, one of BU's assistant athletic directors, described the selection process to get nominated for the Hall of Fame as an "open nomination procedure."
"We have an open nomination procedure that we put on our website and get it out there on social media and we allow anybody to essentially nominate someone," Kelley said. "We've recently opened it up to all coaches and administrators."
Drew Marrochello, BU's director of athletics, said that it is very difficult to get into the Hall of Fame and added that due to the recent success of the BU teams it's going to become more difficult to get the nomination.
After years on the ballot — Bob Danville joined his wife Sharon Colyear-Danville in the Hall of Fame. Danville was an All-American in the 400m hurdles in 1982, and won the 110m hurdles at the 1976 Scottish Championship and placed third in the 400m hurdles at the 1980 U.K. Championship.
Despite waiting so long to get inducted, Danville said during his acceptance speech that he is happy that he is able to share this moment with his family.
Dick Fecteau was inducted because of his time in the athletic administration between 1976-89 and his volunteering to keep the Hall of Fame program going. Fecteau received a standing ovation after getting his Hall of Fame blazer.
The last time BU's men's hockey team won the NCAA national championship, Matt Gilroy was the captain. He became the second of three BU players to win the Hobey Baker Award as one of the nation's best player. After BU he went on to play with the New York Rangers, Ottawa Senators, Tampa Bay Lightning and the Florida Panthers.
Gilroy is currently playing in the KHL and has a good chance of making the U.S. Olympic Team.
"By the time he was in a junior it was like he was in the staff meetings arguing with me all the time," said former long-time BU men's head hockey coach and Hall of Famer Jack Parker.
Robyn Kenney was inducted due to her success in field hockey. She was a two-time All-American at BU and then went on to play for the U.S. national team. She helped bring the team to fourth place in the 2006 World Cup.
April Setterlund was a three-time All-American softball player as a Terrier and holds numerous single-season and all-time offensive records for the Terriers, she can now add being added to the Hall of Fame to her resume.
Current BU softball head coach Ashley Waters said she played against Setterlund during their playing days.
"We played against each other for two years," Waters said. "After I graduated [from University of Maine] she came on the scene and completely kicked butt."
Waters added that she wants her players to look up to players like Setterlund and try to emulate her career.
Kelley said having a Hall of Fame gives a goal for athletes to achieve.
"Anybody who is in sports or excellence in any profession the idea of having something to achieve, something to shoot for in a Hall of Fame, I think it's pretty special," Kelley said. "Once you're a Terrier you're always a Terrier for these Hall of Famers it really gives us a nice way of to honor their careers."