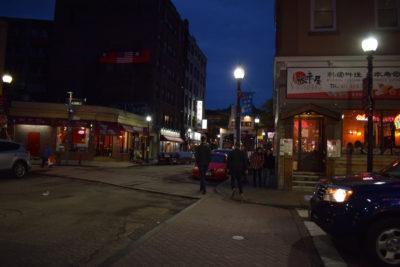 Boston Mayor Martin Walsh announced the City's first implementation of the Neighborhood Slow Streets Program in the Boston neighborhood of Stonybrook on Wednesday as part of the City's Go Boston 2030 plan.
The Go Boston 2030 plan is the City's initiative for future transportation in Boston that incorporates policies and projects based on input gathered from Boston residents, according to the official website for the project.
Slow Streets will help accomplish Vision Zero, an initiative of the plan with the goal to eliminate fatal and serious crashes within the city by 2030, Stefanie Seskin, the active transportation director for the City of Boston, said.
"We need to eliminate serious crashes on all of our streets, not just the main streets," Seskin said. "This is where the Neighborhood Slow Streets program really shines in the Vision Zero world, is that these streets are always going to be there when you leave your house with your kids, your parents, your grandparents. We want to make sure that those streets are just as safe as our main streets."
Stonybrook, a small section of Jamaica Plain, is the first Boston neighborhood to officially enact the program, Seskin said. The second neighborhood in the program, the Talbot Norfolk Triangle in Dorchester, broke ground for improvements earlier this week.
Features of the Stonybrook Slow Streets plan include 20 mph speed limits, 11 new speed humps, increased daylighting at certain intersections to improve visibility, shared lane markings for bicyclists and gateways to warn drivers when they are entering a street with slower speed limits, Seskin said.
"We expect that there will be much fewer of the top speeders," Seskin said. "We also hope that people feel happier and safer and that their quality of life is improved because their streets are much calmer."
Seskin said the City had been receiving requests over the years from residents to make streets safer for pedestrian activities which didn't involve cars.
"The City had been getting requests like, 'Can you please slow down traffic on my street, you know, I really want to be able to feel comfortable going out and riding a bike or to be able to get to the park' or wherever it is," Seskin said.
Neighborhoods nominated themselves to be part of the Slow Streets program, at which point the City evaluated their need based on the volume of their population of vulnerable residents, such as elderly people or children, and if they had a high concentration of areas with increased foot traffic, such as parks or schools, Seskin said.
Emily Stein, a member of the Safe Roads Alliance, a not-for-profit organization with the goal of promoting safe driving, said the program will not only protect vulnerable citizens from harm but will promote environmentally friendly modes of transportation.
"If we design neighborhoods around moving people instead of moving cars, it's not only going to encourage more sustainable transportation like cycling, like walking or like taking the MBTA, but it also is keeping people safer," Stein said.
Several Boston residents said the idea behind the initiative is good but some said it will be hard to achieve street safety in practice.
Suzanne Haggstrom, 30, of Brighton, said she supports the project as she has noticed the issue of speeding cars in her own neighborhood.
"Sometimes even when I'm crossing the street I'm worried because [the cars] are speeding by," Haggstrom said. "I think that the project would be great, just in general."
Mackenzie Karp, 22, of Brighton, said she likes the program because residents shouldn't have to constantly worry for their own safety in their neighborhoods.
"There are always a lot of different types of people walking in residential areas and I don't want it to be a life or death scenario," Karp said. "I want it to just be crossing the street."
Peter White, 47, of Brighton, said the idea behind the initiative is good but he doesn't think it will dramatically change how people drive.
"I mean, theoretically, sure it could be beneficial," White said. "Do I think, in actuality, that it will change much? No. I mean certainly some people might slow down or take notice but in this society today, it's a very 'me, myself and I' generation and they are just more concerned with getting where they are going."