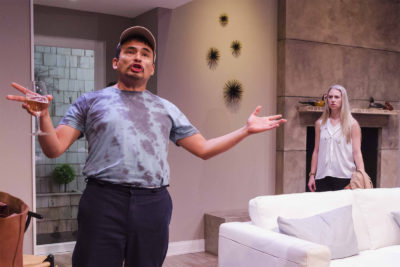 A nearly full house filled the cozy 70-seat Boston Playwrights' Theatre for Friday night's Boston premiere of "Elemeno Pea."
The play was written by Molly Smith Metzler, an alum of Boston University's graduate playwriting program, who has worked a writer and co-producer for the Showtime hit "Shameless" and a writer and executive story editor for Netflix's "Orange is the New Black" and Amazon's "Casual."
The play, set on Martha's Vineyard in the present day, examines the relationship between two sisters, Simone and Devon, who are living disparate lives.
Simone is an assistant to a rich couple on the island, and Devon is an employee at the Olive Garden and resides in her mother's basement. Simone is an aspiring author who has given up her dream to work on Martha's Vineyard as a personal assistant.
Devon is a former social worker whose poor decisions in love have left her directionless, and she is repelled by the opulent luxury to which Simone has become accustomed. In recent years, the sisters have grown apart and this reunion is an opportunity for them to reconnect. However, the weekend is filled with acrimony and strife.
Amanda Collins, as blue-collar Devon, and Lydia Barnett-Mulligan, as the lavish Simone, both turn in strong performances as they defend and argue about their life choices.
The title, "Elemeno Pea," is a reference to the sisters' close relationship during their childhood where one of them had trouble learning the alphabet.
The five-member cast is rounded out by Samantha Richert as Michaela, Simone's wealthy employer; Jaime Carrillo, as Jos-B, the caretaker; and Barlow Adamson as Ethan, Simone's love interest.
Jos-B and Ethan provide much needed comic relief as Simone, Michaela and Devon sink deeper into conflict. The strong performance of the entire cast carries the play forward with energy and witty banter.
From her careful hair-do to her cashmere camel-colored sweater, Michaela looks every bit the part of the wealthy trophy wife. She is arguably the most complex of all the characters and, as the play progresses, one oscillates between dislike and pity for her.
The play takes place during one day, from morning to sunset. It begins on a beautiful sunny day at the end of the summer season.
In a nod to their estrangement, Simone appears wearing a colorful and loud Lily Pulitzer dress with nude ankle-strapped sandals, whereas Devon is dressed in denim cut-offs, old tennis shoes and an ill-fitting blue sweatshirt emblazoned with a logo. Simone wears her hair long, whereas Devon sports a practical short shag cut.
While the play is a comedy, it addresses the weighty topics of love, life choices, and heartbreak during its emotional and raw 95-minute production. There is no intermission.
The set is a guest house on Martha's Vineyard, furnished tastefully and elegantly. It features a fully-stocked bar, where numerous drinks are poured throughout the play, a modern white leather sofa sitting on a sisal rug over wide-plank, white-washed wood floors and an expansive fireplace.
There are beautiful white hydrangeas that grace both the coffee table and bar, and the abstract artwork gives a modern flare to the Cape Cod-style beach house.
Every detail is designed to indicate the Vineyard vibe down to the driftwood art and coffee table books. Sand and shells line the edges of the set to indicate the nearby beach and outdoor space.
The director, Shana Gozansky, is a veteran of many theatrical performances, most recently as director of "Paradise" at the Central Square Theater.
In this production, she delivers continuous action — there are no breaks for set changes. Her careful direction keeps the audience engaged the entire time. She draws from the actors such emotion that there were many eruptions of laughter and few dry eyes in the theater.
The acting, directing and set come together to deliver an enjoyable and thought-provoking evening. Its themes are both complex and provocative, and it's well worth seeing — a can't miss show without a doubt.