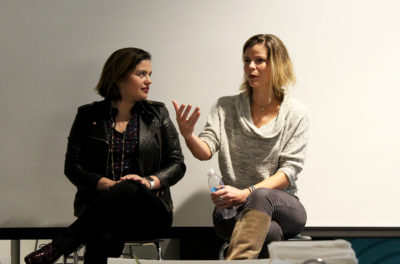 In the advent of this new space age, people who wish to travel out to space should start thinking of how their lives are going to be like beyond Earth's atmosphere. While aerospace technology is gaining ground with the recent SpaceX announcement, there is one earthly aspect of life to consider in these endeavors: fashion.
Where people do not feel sunlight or the wind in their faces, "what would lifestyle be like in an entirely artificial environment?" Lee Anderson asked.
Anderson, the founder of the community Fashion and Aerospace for Advanced Realities and fashion brand Starkweather, asked this question in the presentation, "Interdisciplinary Future: The intersection of fashion and aerospace" at Pivotal Labs in Cambridge on Thursday.
As an interdisciplinary forum, the event was held to bring forth a dialogue based on FAAR's goal: to join the forces of innovation between design and STEM to optimally project how interplanetary lifestyle and wellbeing will look like.
However, Anderson thinks the role of fashion in space wear will go beyond trendsetting the edgiest looks on runways and into technical collaborations.
"I can definitely see that happening in the near future, SpaceX partnering with Chanel, and these two logos launching off into space," Anderson said in an interview.
This interdisciplinary future between space and fashion will anticipate an upsurge in the hybridization of roles and jobs. Standing at the forefront of their "hybrid jobs," all four panelists invited to the discussion are interdisciplinary designers who meld multiple skillsets to invent sustainable and innovative products that solve problems.
One of the panelists, industrial designer Julianne Gauron said in an interview, "[interdisciplinary collaborations] should be a circular conversation that is supportive."
A former New Balance apparel developer, Gauron has spent her career creating wearable technology by consulting between sports, health and fashion clients.
"There's always going to be something you don't know what to do, that makes you willing to learn," Gauron said.
One of the risks, yet perks of being an interdisciplinary designer that she said is to learn to get comfortable with discomfort.
To get to the peak of their careers now, all of the panelists did not have smooth-sailing journeys.
"The path is not always linear," Yuly Fuentes-Medel, who is the founder and CEO of Descience, said on the panel. Initially fascinated with the brain, Fuentes-Medel transitioned from neuroscience to "remaking the innovations happening" for a commercial space, she added.
For Danielle Ryan, another panelist, she said she grew interested in the functionality of fashion after graduating from Pratt Institute with a B.F.A. in fashion design. After kicking off her career with Reebok and New Balance, Ryan now focuses on "wearable robotics to mimic human walking," she said to the audience.
With interdisciplinary design, lifestyle products should not prioritize the mechanics too much, but more to how people feel about it.
Another panelist Michael Lye, who is a professor and NASA coordinator at the Rhode Island School of Design approaches his projects through a "human-centered design," he described to the audience.
Lye discussed how even NASA prioritizes human empathy over practicality by building windows for its spacecraft instead of replacing them with cameras to view outside.
"Technology is a mechanism, but it is not the role," Gauron added in the interview.
Elizabeth Saint Germain, 23, of Medford, graduated from the Massachusetts College of Art and Design and now works in an adhesives manufacturer company Bemis. She attended the event and offered advice for college students who aspire to become interdisciplinary designers.
"Don't be afraid to take the risk, the worst thing that can happen is that you just have to do more research and try again," she said.
All four of the panelists, as well as Anderson and Germain, are interdisciplinary designers who constitute the ideal workforce that the intersecting industry between aerospace and fashion is looking for.
Through this dialogue, Anderson aims for spacesuits one day to be esteemed as high-end tuxedos.
"When you put on that suit [spacewear], you feel awesome and you want to go into space," she said. "We want to give that feeling to people to get them energized about this industry."