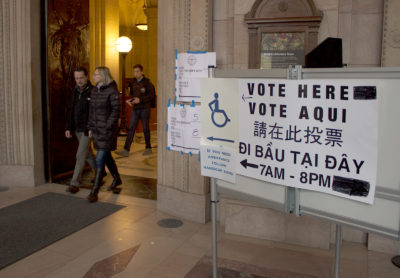 Acoustic guitar, pristine vocals and other soothing sounds echoed across City Hall Plaza on Tuesday during Election Day as college students performed outside of the polling station on Congress Street as part of the Get Out the Vote initiative.
The initiative, spearheaded by Berklee College of Music students, aimed to encourage Bostonians, particularly students, to vote in this year's municipal elections. The school worked with several Boston-area college groups, including Boston University College Democrats, to get the word out about the city's mayoral and city council races.
"We're here mostly just to encourage people to go out to vote," project manager and Berklee senior Will Lenart said. "We can't take a public stance or position of any kind."
The non-partisan initiative, which lasted from 10 a.m.-5 p.m., featured Berklee student musicians performing a variety of genres to promote student engagement in politics.
"There's a long history of musicians being politically active, and we wanted to contribute to that," Zack Gorra, a Berklee junior and event volunteer said as he handed out a "Vote" button to a passerby.
Gorra, along with classmate and event program manager Lenart, first started the Get Out the Vote initiative as an assignment for a business management class.
But the project quickly took off and changed direction — they decided they wanted to do something that would be a little bit unusual for music students, as both felt strongly about the importance of voting after last year's heated presidential elections.
"After last year, with people being so pessimistic about voting, we figured there would be low voter turnout here, and we wanted to do something about it," Lenart said. "Election Day is supposed to be a good thing and supposed to be kind of celebratory, and we wanted to do something that would make people happy to vote."
Lenart said they had challenges recruiting performers at first, but when they talked about their mission, word spread and people increasingly signed on.
"Once you get a couple people on board, they start telling people, and my friend here got involved, and he got other performers involved," he said.
Lenart said that they enlisted the help of student organizations from other colleges including BU's College Democrats, which helped promote and volunteer for the event.
Several BU College Democrats members were contacted to comment on the event but were not available.
Many Get out the Vote volunteers said they were concerned about low voter turnout, particularly among college-aged citizens, and hoped this event would encourage people to get active in local elections.
Connor Godfrey, a senior at Berklee, said he thinks students around the city should be more concerned with local elections, as their outcomes may affect them more than national elections.
"There's a lot of issues being voted on, and the fact that people aren't coming out to vote on these issues that most directly affect them is troubling," he said. "It's important, especially for students, to be just as politically active, and we're just trying to spread that message here today."
Several BU students volunteered alongside Berklee students, handing out food and buttons and speaking to voters at the event.
Natalia Deibe, a CAS senior, said she learned about the event from her friend, Lenart, and contributed to the initiative's effort by helping get permits from City Hall and coordinating volunteers.
"I read something about the voter turnout being something like 23 percent, which is not very great," said Deibe, who is studying political science and history. "So, I when I heard about this, I wanted to do something and get involved."
Other BU students said they decided to volunteer because they believe it is important to get involved in local elections.
Jamie Allendorf, a senior in the College of Communication, said she volunteered because she felt strongly about the importance of municipal elections.
"Traditionally, municipal elections have very low turnout but these are the people that are going to affect our lives the most and more than people like the president," Allendorf said. "This is where you really have your chance to make your voice heard."