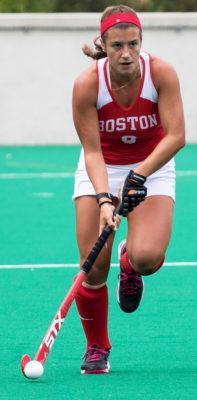 The Boston University field hockey team came out victorious in the opening round of the NCAA tournament when it took down Fairfield University, 5-0.
The No. 20 Terriers (14-7, 6-0 Patriot League) used an early surge scoring three goals in 10 minutes to extend their season Wednesday afternoon. BU continues to gain momentum having won four games in a row and eight of the past 10 games.
"It's one year at a time, one game at a time, one championship at a time," BU head coach Sally Starr said. "I'm so happy we get to keep playing."
Fairfield's (9-12), 2017 MAAC Co-Defensive Player of the Year senior Erin Buckley did all she could for the Stags, but stopping the deep Terrier offensive arsenal is impossible to do alone.
BU disallowed Stag leading scorer Hannah Pike to continue her recent tear. A graduate student, Pike scored five out of the team's eight goals enroute to the 2017 MAAC title. The Terriers keyed in on Fairfield's top offensive threat to limit the Stag's opportunities as Pike recorded just two shots. BU limited the entire Stag roster to three shots.
"I felt she was their heart and we needed to know where she was at all times," Starr said. "We needed to limit her touches and we were successful in doing that."
Senior Allie Renzi and sophomore Kiley Gallagher scored BU's goals in the Patriot League title game and recurred this performance with the game's first two goals. The pair also scored one goal apiece in the second half.
Renzi scored six minutes in on a junior Allie Doggett assist and Gallagher scored an unassisted goal eight minutes later.
BU quelled any hope for the Stags early, as head coach Jackie Kane called her only time out just 13:01 into the contest.
"We played aggressive defense and played in our zones well," Starr said. "We stopped their attack high up the field and tried to make stops outside the circles so they didn't have opportunities to get corners on us."
Freshman forward Miya Denison scored the third goal for the Terriers on an unassisted strike. It was her first since finding the back of the cage twice in a rout with the College of the Holy Cross on Oct. 13.
Renzi scored again midway through the second half off a rebound set up by a penalty corner. Gallagher again followed with a goal eight minutes later.
"We put Allie as a striker so that she can finish goals for us and she's absolutely doing that," Starr said. "Kiley has really entered another level of play as a hockey player."
Fairfield's only real chance came when junior forward Kaley McMullen found herself in front of a wide open net. BU goalkeeper Millie Baker dove to attempt a save, but McMullen missed the ball completely. The Terrier defense stymied the Stags for the remainder of the contest.
The victory marked Starr's 450th victory as the head coach for BU.
An away tilt against the No. 1 and perfect 19-0 Huskies is next on the Terriers path to an NCAA title. Nearly two months after their toughest matchup of the season, the Terriers look to come out on top. Denison scored the Terriers lone goal in an 8-1 faltering at the University Connecticut on Sept. 17.
"They absolutely spanked us the first time we played them, but I'm happy to have an opportunity for a rematch," Starr said. "We get to keep playing with these seniors and they've been an awesome class for us."