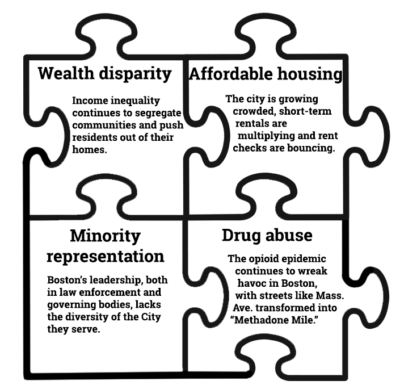 After winning the mayoral election on Tuesday, Martin Walsh will now have to address some of the biggest challenges facing the city's residents over the course of his four-year term.
Four of the issues that have been most hotly debated throughout the mayoral campaign include affordable housing,wealth disparity across neighborhoods, minority representation in city government and ongoing drug abuse.
Affordable housing
Affordable housing has long been an issue on Boston residents' minds, and now more than ever.
Tom Callahan, executive director of the Massachusetts Affordable Housing Alliance, said that for the first time in his 30-year career, housing is being ranked by the average Boston resident as the number one concern they have in the city.
Callahan said the primary issue is the ever rising cost of housing, which has been pushing residents out of their neighborhoods at an alarming rate.
"[Rising rents and home prices are] impacting more and more people in the City of Boston, whether you're a renter or a prospective homebuyer, prices are beyond the reach of many, many people that live in the city," Callahan said.
With the expanding popularity of short-term rental platforms like Airbnb, the housing market in the city has seen increased pressure in recent years, Callahan said.
State funding for affordable housing flat lining and federal funding essentially non-existent, the City has had to be creative in allocating resources for the housing issue. For Walsh, Callahan suggested securing a reliable funding stream that translates to tangible housing opportunities for residents should be number one on the to-do list.
"It's one thing to collect the revenues, it's another thing to translate that into actual housing units that people can move into," Callahan said.
Wealth disparity
Tied into the issue of affordable housing, income inequality in Boston continues to be a pervasive issue across neighborhoods.
Priscilla Flint-Banks, the program director at the Black Economic Justice Institute, said wealth disparity has gotten so great between neighborhoods that the city is essentially divided in two.
"People just aren't making enough money to live in Boston, that's just the bottom line," Flint-Banks said.
As wealth disparity grows, residents have been forced to move out of neighborhoods like Beacon Hill, South End, Roxbury at the beginning and now are being pushed out of Dorchester and Mattapan, Flint-Banks said.
Flint-Banks said the first priority for Walsh should be to increase access to employment in the city to all residents.
"People need to be able to make good income in order to be able to live here," Flint-Banks said.
Flint-Banks said there should be a new community advisory group involved in the City's future decision making to advocate for individual neighborhoods.
"It's usually the people from the neighborhoods that can tell you, because the people on the ground are the ones that know what's going on," Flint-Banks said.
Minority representation
Releasing its scathing report card on the Walsh administration last month, the Boston Branch of the NAACP shed light on the issue of lack of minority representation in city government.
Segun Idowu, the lead organizer for the Boston Police Camera Action Team, wrote in an email the NAACP's report card on the Walsh administration revealed a clear underrepresentation of minorities in the police force and general city workforce.
"While there are people of color in leadership positions — such as on the command staff for BPD and the mayor's cabinet — a good majority of those employed by the city are non-persons of color," Idowu wrote.
Idowu wrote proper minority representation in city government departments is an issue larger than race — it includes different ideas, backgrounds and perspectives.
Idowu wrote because people of color make up a majority of the population in Boston, it is essential that Walsh considers this issue in appointing future employees.
"Anyone who leads the city has to make sure that they surround themselves with thoughtful people who reflect the racial, ethnic, and gender makeup of the city, as well as those with a diversity of ideas," Idowu wrote. "They also have to make sure that these persons are put into positions that have actual power that affect residents, and not merely window-dressing to make whoever leads as mayor look progressive on paper only."
Drug Abuse
With the opioid epidemic officially declared a national public health emergency by the Trump administration as of last month, drug addiction has been recognized both as a national and local issue.
Maryanne Frangules, executive director of the Massachusetts Organization for Addiction Recovery, wrote in an email the current crisis is a marker for a far deeper and long-established issue.
"The Opioid Crisis with so many painful deaths has brought to light that there has been an ongoing epidemic of alcohol and other drugs," Frangules wrote.
Frangules wrote MOAR approves of the work done by Walsh in addressing the opioid epidemic, including the creation of the Office of Recovery Services.
"We applaud the current prevention initiative," Frangules wrote. "We would love to see even more recovery support services to help people maintain their recovery, and MOAR would love to help in all these areas."